iPhone 4 gets slide-out keyboard
Clip-on Apple-to-HTC conversion
Saddened that your iPhone 4 lacks a slide-out Qwerty keyboard? Soon you'll be able to add one.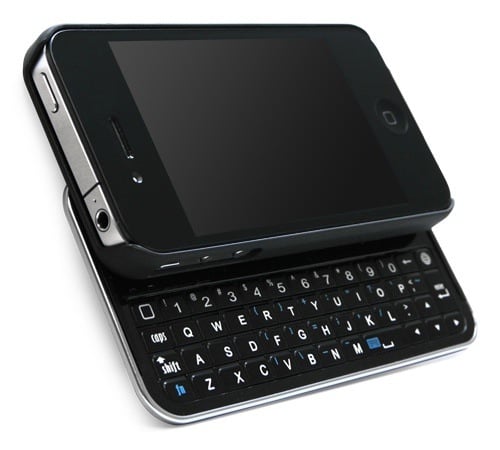 That's thanks to US accessories company BoxWave, which is now taking orders for Keyboard Buddy, an iPhone 4 case with a drop-down landscape-orientation Qwerty deck.
The keyboard connects to smartphone using Bluetooth, so it has its own battery on board, charged using a mini USB cable and good for 45 days' usage, BoxWave claims.

It doesn't obscure the iPhone 4's rear-facing camera, its controls or dock connector. The only downside: it adds a fair bit of girth to the Apple's slim frame, though we've seen fatter phones.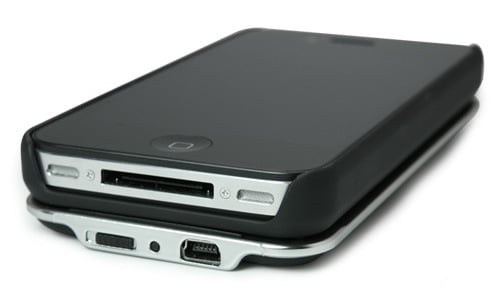 BoxWave will ship the Keyboard Buddy on 14 December, not only to Yanks but to the rest of us too. The accessory costs $70, and the cost of international P&P takes the price to $79 (£50). ®
COMMENTS
Ooh me me me meeeee
Can I be first to say 'Read the fkin article'
Ssshhh, you've exposed the real purpose of the LHC, Brian Cox is angry.
It was sold to the public as a way to investigate subatomic particles and hunt the Higgs Boson but in actual fact in a top secret facility on the Swiss/French border it creates highly trained quantum monkeys to hide under the keys of wireless keyboards and write your keystrokes on little pieces of paper that they then make into tiny paper aeroplanes * to fly across to their counterpart monkeys in the host device who unfold the 'plane and hold the paper up to the inside of the screen for you to see through the magnifying lenses people call 'pixels'. Incidentally, a stuck pixel is a monkey on strike at having to work for peanuts.
* (A technology Apple used to create the iPhone 4 but failed to take into account the scalability of quantum monkey aerofoils and is thus the real reason the iPhone 4 drops calls as most of the paper planes don't fly far enough unless there's a following wind)
Alternatively, the keyboard might use Bluetooth and you're just a monkey who didn't read the article.
Or, you know...
You could get a Nokia N900. And it comes with flash.
Wrong keyboard layout!
And it is of course a US keyboard layout so the additional characters are in the wrong place. But then of course the whole universe revolves around Cupertin..........
If you listen to the apologists
Apologists would claim they have to seal the battery in to make the phone slim. A blatant lie as many other smart phones can demonstrate. e.g. my HTC Desire lets me get at the phone using a finger nail to unpop the cover.
The reason, the only reason for sealing in the battery is to ensure as many people as possible throw away their iPhones when the battery goes and buy a new one.