A Linux server OS that's had 11 years to improve
Is SME Server ready to roll?
Installation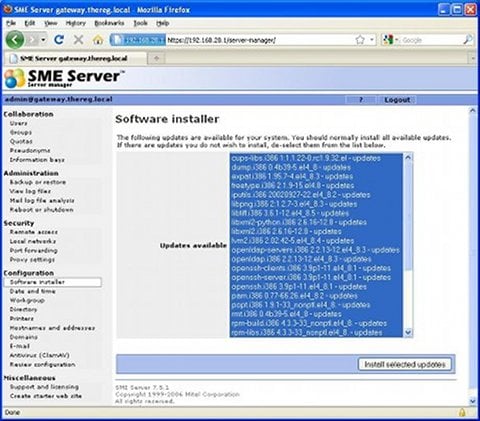 SME Server's CentOS base means regular updates and easy installation
Once the server is installed, there is no user interface to speak of on the machine itself – just a bare login prompt. If you want to, you can use the command line, but there's no need – all configuration and administration is done from a client machine using a web browser.
If you've configured the machine to be a gateway, it does all the standard stuff that most £50 firewall devices do these days: it acts as a DHCP server for the local network, does NAT masquerading of TCP/IP traffic, acts as the local DNS server and so on. It can out-do most routers, though. There's a caching Web proxy, helpful for slow Internet connections. In these days of dynamically-generated websites, caching proxies aren't as much help as they once were, but they can still help with repeated large-file Web traffic such as Windows updates.
As well as being a capable email server, accessible via POP3, IMAP and webmail, it can also do spam-filtering on inbound email. There's an LDAP directory, which could be used for a company-wide address book, but there's no shared calendar support.
Naturally, SME Server supports file-sharing. It uses a slightly idiosyncratic system called "information bays" or "i-bays". As many i-bays as you wish can be added, with per-user and per-group permissions and security. An i-bay can be used either as a file share, in which case users see an empty folder – actually a folder inside the i-bay called "files" – or also as a Web or FTP share, in which case the users can also see the "cgi-bin" and "html" folders used for holding website content.
A tick of one box in the web management GUI makes the machine a Windows domain controller, but unfortunately, the version of Samba used in SME 7.5 does not support domain logons from Windows 7 clients. (This is fixed the forthcoming SME Server 8.)
SME Server also supports Mac clients – i-bays are also automatically shared via Apple Filing Protocol, as well as Microsoft's SMB protocol for Windows clients. Although Mac OS X has no trouble accessing Windows shares, this can still be useful. SMB (also known as CIFS) doesn't accommodate Apple's dual-fork file format, still used by older Mac apps such as QuarkXpress. Save a document from such an app onto a drive connected via SMB and it will be irretrievably corrupted. This puts SME Server ahead not only of ClearOS and Zentyal, but also in front of all Windows Server 2008, which has dropped Mac support altogether.
SME Server is also a Web server straight out of the box: to host a site, little more is needed than to create an i-bay for it and upload some content. It even has a wizard to generate a simple single-page site. It supports multiple virtual domains, so you can host multiple different websites on a single machine with a single IP address. It also talks to an assortment of dynamic-DNS suppliers so that you can associate a name or names with your server and have them visible on the public Internet – although to do this, you'll have to be in "server and gateway" mode, using SME Server as your firewall, connected directly to the Internet.
Sponsored: Minds Mastering Machines - Call for papers now open