Speak geek: The world of made-up language
Pointy ears, bumpy foreheads and obscure tongues
Elvish is not dead
Author and philologist J.R.R. Tolkien constructed several Elvish languages, which in turn inspired the stories we find them in.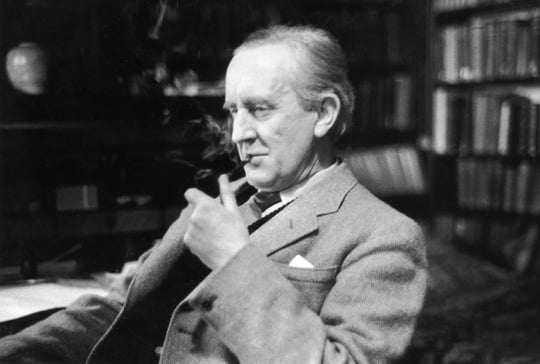 J. R. R. Tolkien
Tolkien was no regular myth writer. He believed Mythology touched us all at a very deep level and those that disagree simply don't understand the power it holds. Once, after attempts to get such feelings across to a fellow writer and friend CS Lewis, Tolkien came home, frustrated and wrote this poem. It offers good insight into the conlang mindset.
It's easy to think that these languages were created for his stories, but Tolkien was primarily a linguist and had dabbled with language invention since his childhood. Through the words he penned, Tolkien's mind was filled with imaginary worlds, from where the stories originated.
Sindarin and Quenya are Tolkien's two most recognised languages. Sindarin, loosely based on the sounds of Welsh, is spoken by most Elves in the time of LOTR. Quenya, loosely based on the sounds of Finnish, is known as "High-Elven".

English translated into the Tengwar script
The level of depth that Tolkien went into is amazing and you could be on the Internet for months studying the finer details. Tolkien crafted an entire history and evolution around the tongues of Middle-Earth and even created a fictional philological society that studies them.
Nowadays real people study the languages. There are more than 40 Tolkien societies that arrange numerous events worldwide. These include costumes, dance, drama, good food and re-enactments of battles from the books. However, although poetry readings are common, few include linguistics. Sarehole Mill, a museum in Birmingham, hosts an annual Middle-earth weekend where tongue in cheek Sindarin conversational lessons are offered. Nobody takes it far enough to be practically implemented though.
Modern technologies are increasingly used to bring together followers and recruit. The rise of the mobile app markets is helping.
This summer saw the launch of I write Elvish 1.0.1, an app from Sviluppo iPhone Italia, where users can learn to write their name in Elvish, structure full paragraphs and connect to Facebook to post Elvin encrypted messages to other Ring-bois. Available from the App Store for 64p, the app allows users to overlay script onto supplied backgrounds, or connect to Facebook and adapt existing photos, with the latter marketed as a perfect tool to see how an Elvish tattoo would look.
Also, there's ElvenSpeak, a free app from developers Lassiquendi. Released last year, it offers a 20-course lesson in learning to speak Elvish, which includes a conversational lesson in Quenya. The app features a searchable dictionary, Elvish calendars and traditions, Elven-inspired music and Elven-astronomy lessons.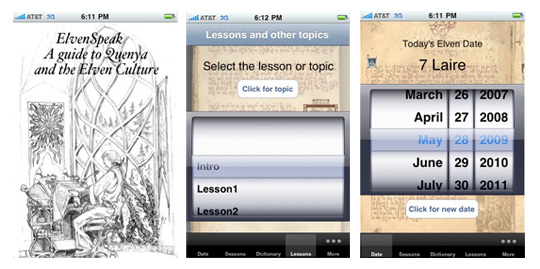 According to some of the devoted Elves out there, these apps dumb it down for those more interested in getting wedding rings engraved than anything else. Nonetheless, the apps represent an interest in the culture and offer a new platform for expansion.
To speak an Elvish language fluently though is near impossible - the language doesn't work in the modern era. As with Klingon, where the lexicon is specifically written for intergalactic war-talk, Sindarin was created for Middle-earth, a fantasy world where modern culture has no place.
You won't find phrases like "I'm so cool, I have an iPhone" - though in principle the phrase could be created through "reverse engineering" and close examination. The English word "television" for example, comes from the Greek and Latin words meaning 'far' and 'to see'. The same method can be applied to many forms of language.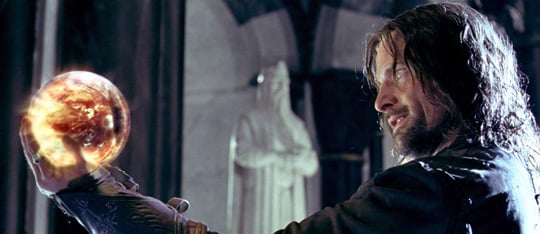 The word "television" also exists in Sindarin - "palantír". A LOTR fan may recognise this as the word Saruman used for "seeing-stones", the two way television set, or Middle-earth's version of FaceTime.
Sponsored: Flash storage buyer's guide