Speak geek: The world of made-up language
Pointy ears, bumpy foreheads and obscure tongues
Put 'em in an institute
The Klingon Language Institute (KLI) has brought enthusiasts together since 1992, mainly through a series of quarterly journals called HolQeD (Klingon for linguistics). The KLI hosts an annual five-day conference called qep'a', which is open to members and anyone vaguely interested. With more than 2500 members from over 50 countries, including Antarctica, qep'a' has a low turn-out, but remains a great place for bumpy-headed Lieutenant Worf lookalikes to socialise.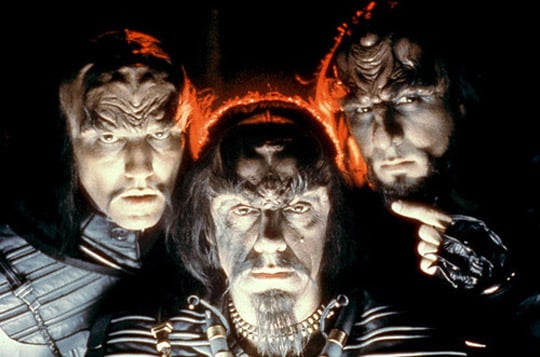 Scaramouche! Scaramouche!
Operating with Paramount's permission to use the Star Trek trademarks, the KLI has even translated The Bible and Shakespeare plays into Klingon. This is a tricky job, as only one person is "allowed" to create new words.
Okrand, who admits to having a limited grasp on the language himself, often makes appearances at qep'a' to announce these new words and take suggestions for other translations.
Although phrases such as 'thank you' contradict a Klingon's temperament and aren't obligatory, the language appears to have evolved for every-day speech and is at a level where it can be used conversationally.
The fact you can select Klingon as the language of choice in Google highlights this. Perhaps it won't be long before we see children brought up with Klingon as their mother-tongue. It has already been attempted.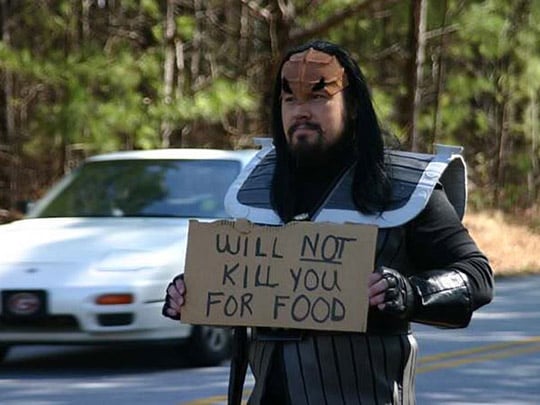 Homeless Klingon
Photo of Kevin Parker (Amar) by Brian Richardson, Dragoncontv
Linguist Dr d'Armond Speers spoke Klingon to his son for the first three years of his life, while the boy's mother spoke to him in English.
The child displayed moments of understanding Klingon but was apparently uninterested. Speers, struggling to find equivalent words for bottle and diaper, decided enough was enough. His son, now 16, does not speak Klingon, but probably had a grunt at his dad for the embarrassing article.
Sponsored: Magic quadrant for enterprise mobility management suites