Speak geek: The world of made-up language
Pointy ears, bumpy foreheads and obscure tongues
Fantasy Islands
Languages created nowadays are typically made for occasional use in a Film, TV series or book collection. Practicality is often ignored. Created to fit the fantasy in mind and not potential linguists, the languages can be deliberately difficult, with awkward pronunciation and limited vocabulary.
The latest communication fad among movie fans is Na'vi - the language spoken in James Cameron's Avatar. This shows conlanging is on the rise again and with the support of modern tech, it now has a platform to survive.
Klingon also fits this bill: this conlang has seen considerable success and was even used recently in Australian cave tours as well as a full-blown Klingon opera.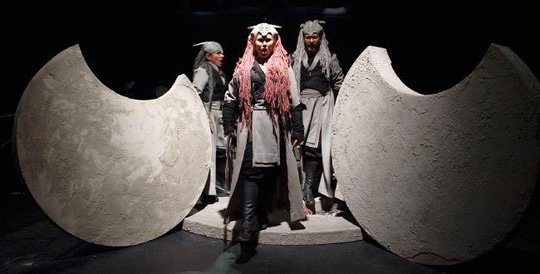 Klingon Opera
Photo by Guus Rijven
Linguist Dr Marc Okrand was commissioned by the Star Trek writers to take a handful of phrases coined by James Doohan (Scotty in the original series) and turn them into a fully-fledged language for Klingon use in future Trek films and episodes. Although purpose of creation is thus clear, reasons for attempting to learn the language are not. Aren't subtitles enough?
Perhaps there's a possible element of superiority involved - to express complete devotion for a work of fiction, one has to push the boat out further than the rest. To follow suit becomes a must for serious fans who otherwise risk appearing less enthusiastic than others. With so much time already invested, there's too much pride at stake to appear second best.

The Klingon Alphabet
I struggled to find a Klingon speaker who was prepared to talk to me, so perhaps that pride has its confine. Okrent writes how Klingons can be reserved - a result of the mockery they have to deal with on a regular basis. It appears that imitating an alien race known for its brash demeanour opens the doors for humans to act undignified in return - who'd have thought? Ms. Okrent provides the perfect example of this when checking into a hotel alongside a fully equipped Klingon:
They looked at us, immediately noticing, of course, a costumed member of our group. One of these so-called normal people walked right up to him and, without asking for permission, took out his cell phone to take a picture, saying to no one in particular, and certainly not to the Klingon in question, 'If I don't get a picture of this, no one will believe me.' The Klingon stood tall and posed like a true warrior. At that moment, I knew whose side I was on. The world of Klingon may be based on fiction, but living in it takes real guts.
Sponsored: HPC and HPDA for the Cognitive Journey with OpenPOWER