Speak geek: The world of made-up language
Pointy ears, bumpy foreheads and obscure tongues
Who owns what
Although there are actually those who unofficially construct Elvish words for modern times, this defeats the point, according to "Lúthien", a 39 year-old woman from the Netherlands and speaker of Sindarin. Lúthien is immersed in Tolkien culture and uses Sindarin to write poetry, translate songs and create Middle-earth related artwork. She has almost finished her own Sindarin dictionary too.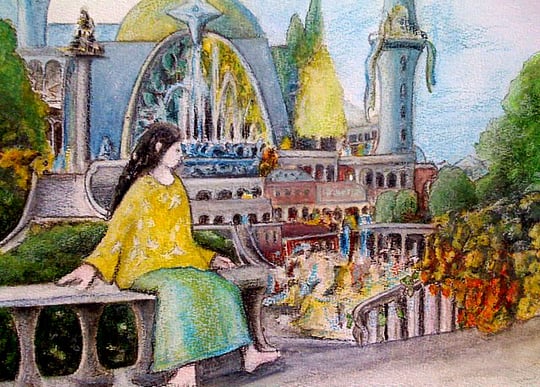 Lúthien's art: Nost-na-Lothian in Gondolin
Elvish languages are not made for the modern era - to adapt them to our culture goes against everything they're used for and dilutes their charm, she says. Lúthien is happy for others to speak Sindarin and insists that being part of a minority is not the appeal, but she says the language should only be used "in the spirit of the Elves".
Christopher Tolkien owns all copyrights to his father's works and the Tolkien Estate has an official editorial team that sifts through Tolkien's paperwork and releases new sets of words from time to time.
Lúthien say she must tread carefully though when it comes to the words they publish and worries about legal issues should she include them in her dictionary because the Tolkien estate are very strict about their use.
The Tolkien estate has taken people to court in the past, most notably author Michael Perry for his book Untangling Tolkien: A Chronology and Commentary for The Lord of the Rings. Wired magazine reported back in 2001 how "Elfconners", the name given to those involved with Tolkien's unpublished writings, had acted as "informal copyright police" and attempted to prevent publications by other linguistic scholars.
Copyright disputes in Middle-earth: who knew? ®
On learning Elvish
Ever since her father read The Hobbit at bedtimes, Lúthien dreamed of learning the languages. Aged thirteen, she pored through The LOTR appendixes to learn more. She tried to master the Tengwar script but couldn't sustain it and while her passion remained undimmed, she struggled to find enough resources to continue. Three years ago, browsing the internet, Lúthien discovered other Tolkien fans and additional material that assured her it could be done. In 2008, she started to take it seriously.
Can't see the video? Download Flash Player from Adobe.com
Lúthien has attended just one Elvish gathering and with with face-to-face congregation a rarity, she often uses Skype to talk with enthusiasts. Subscription to Elfling, the Yahoo mailing list, along with several forums, including Parendili, appear to be the best places to meet - more signs that modern tech helps to further the widespread celebration of Tolkien's languages.
Lúthien feels Sindarin takes her to a fantasy realm, much to the same degree it originally took Tolkien, before he turned the languages into the core of LOTR.
Sponsored: Customer Identity and Access Management