Coraid lands $25m funding whopper
Underdog manufacturer can bark louder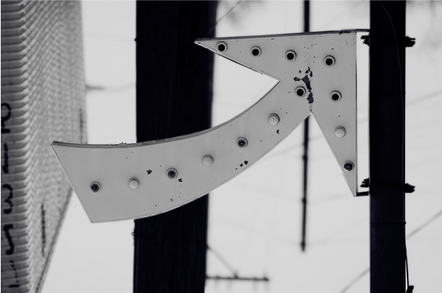 Venture capital funds have bet big on storage underdog Coraid, gambling – to the tune of $25,000,000 – that its new management can build a successful business out of its low-cost and simple Ethernet access storage. That is a huge bet.
It received a $10m A-round investment in February this year. The firm's management has done so well with it in the nine months since then that they have been given a further $25m in a B-round to grow the firm. Chief Technology Officer and founder Brantley Coile's ATA-over-Ethernet (AoE) technology and protocol is now going to get some serious muscle pushing it forwards.
The firm has 1,200 customers and a 10-year history of organic growth without any VC (venture capital) investment before this year. Menlo Ventures led the B-round and existing Coraid investors, including Allegis Capital and Azure Capital Partners, piled in too – all seeing a pot of gold appearing at the end of the Coraid rainbow.
AoE is said to be simpler and lower-cost than either Fibre Channel over Ethernet (FCoE) or iSCSI storage access over Ethernet, as well as being faster. It starts at less than $500/TB and can scale to the petabyte level. Coraid cites an August 2010 study by ESG Lab which showed Coraid's EtherDrive SRX-Series delivering faster performance than Fibre Channel at approximately 20 per cent of the cost, with storage arrays that can be configured in less than two minutes.
Critics point to Coraid being the only manufacturer of AoE storage, suggesting that AoE is effectively proprietary because of that.
The firm has been spreading its wings of late, and is a supporting player in networking company Avaya's VENA (Virtual Enterprise Network Architecture) for converged Ethernet-based networking. Coraid sees its AoE as a viable alternative to FCoE, with Coraid's EVP for worldwide sales, Carl Wright, saying: "Avaya's VENA architecture provides a revolutionary service fabric that can create Virtual Service Networks that span geographic data centres. This provides Coraid Ethernet SANs with significant layer-2 fabric-based scalability and elasticity."
Fibre Channel replacement isn't the only target though, there's also iSCSI. It seems Coraid is hoping AoE is seen as a substitute or replacement for that protocol. The firm's task is to convince customers that AoE-based products are as reliable, secure and scalable as either iSCSI or FCoE, as well as having a cost advantage.
Coraid CEO Kevin Brown said: "This Series B investment positions Coraid for rapid growth in the coming years, and enables us to accelerate the development of new disruptive technologies. [It] enables us to provide enterprise-class support to our customers worldwide."
Watch this space: we've got an energetic management team with a head of steam and lots more resources to do what it thinks needs doing. Underdog Coraid is going to start barking more loudly. ®
Sponsored: Minds Mastering Machines - Call for papers now open