Toshiba Portégé R700 13in notebook
One-time MacBook Air alternative gets chubby in middle age
Better built than before?
I mentioned the larger screen, and some of you will be pleased to know it has a matte finish across the range. Both the R500 and R600 suffered from an incredibly bendy lid, a result of Toshiba's desire to get the machines' thickness down. Not so the R700. Its lid is thin, but more rigid than before, though it clicks worryingly when you squeeze the upper bezel.

Not only extra cooling, but the addition of eSata and HDMI have bulked out the R700
That said, one of the chrome-look hinge caps was loose. Now that may be the result of a less-than-careful previous reviewer, but it doesn't bode well for the resilience of that part of the laptop.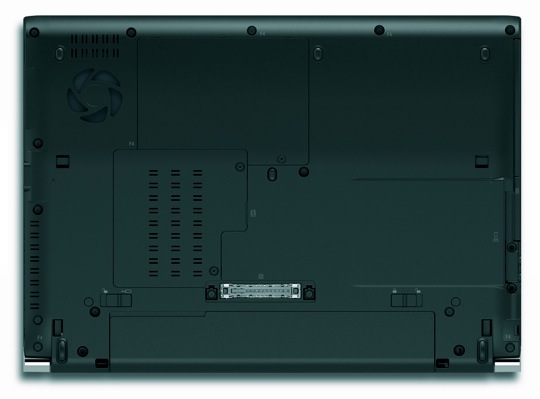 Toshiba hasn't ignored dockers
The keyboard is of the calculator variety, but there's little flex and it's fine to type on. The trackpad is of a reasonable size, with two separate buttons and a fingerprint reader between them.

Still packs in ExpressCard bay, memory card slot and an optical drive
The bigger bulk has done nothing for the R700's weight. The model I tested weighed 1.4kg, but the optical-less versions come it 1.3kg. Either would have been impressive in 2008, but not now - doubly so when you consider that the SSD-equipped R500 weighed just under a kilo.
Sponsored: Minds Mastering Machines - Call for papers now open