Enhanced performance
Performance, at least, has gone in the right direction, the R700 managing 1080p video without a hitch and putting in a 3DMark 06 score of 1915 - more than three times the R600's 612. But it's still well below any laptop with discrete graphics.
It's PCMark Vantage numbers put it well above the 13-17in notebook class average, thanks to its speedy SSD and the horsepower of the two-core, four-thread Core i7.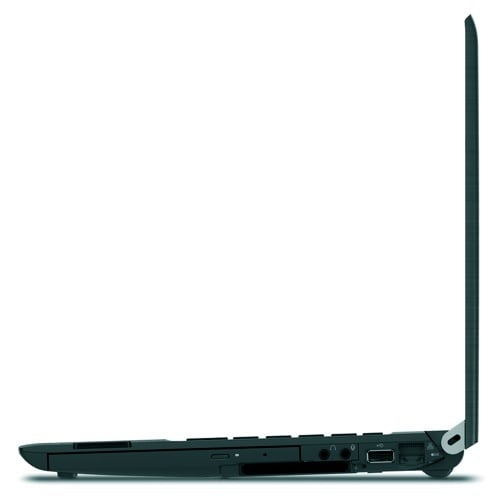 The R700's lid is more rigid than its predecessors'
But the CPU brings its own issues: more aggressive cooling, which has not only helped bulk out the R700 but also involves a very noisy fan. And the R700's thin, lightweight chassis doesn't muffle the sound the way another laptop would.
The R700-155 is pricey - £1691 inc VAT - but it then it does include a 128GB SSD, the Core i7 and a HSDPA 3G modem. The cheapest R700 comes in at £739, for a 2.26GHz Core i3-350M, 320GB HDD and no optical drive. If you want the DVD writer, you're looking at an extra £176 - you can get an occasional use external unit for a lot less than that. Pay £1056 and you'll get one anyway - and a 2.4GHz Core i5-520M - or the i3 plus 3G.
Verdict
The slimline Portégé R-series sub-notebook of old has grown into a mainstream laptop. It's lost its raison d'être on the way. What was once an impressively small, light yet feature-packed machine is now just another 13.3in machine. ®
More Laptop Reviews

Apple
MacBook Air
13in
Samsung
430
Apple
MacBook Pro
17in
Acer
Aspire
5940G

Toshiba Portégé R700 13in notebook
13.3in notebook with Intel Core i7 and SSD options.
COMMENTS
Am I the only one...
... getting a bit sick of Intel's crappy on-board graphics chips? If a laptop is going to have a multi-core CPU running at multiple gigahertz surely it should have a better graphics chip than one that would have been underpowered 8 years ago.
Maybe it's because I'm a hopeless gamer who can only judge hardware specs on the basis of how well they'll run Crysis?
16:9 screen?
don't buy it! demand 16:10
Re: Battery Life
Ahem...
http://www.reghardware.com/2010/11/15/review_notebook_toshiba_portege_r7a00/page4.html
Battery Life
Any thought to mention how long this thing will go between charges?
Home user option: Satellite R630
I recently bought the Satellite R630, which is the home-user focussed equivalent. It's missing some business-oriented features (e.g. fingerprint reader and docking station port), but is a lot cheaper.
I was looking for a compact yet high-performance laptop with Intel innards for hopefully-better Linux support.
After my previous laptop's discrete graphics card kept overheating, I welcomed the Intel graphics card. It's performance has been fine for my needs so far.
Mine came with the 64-bit version of Windows 7 Home premium.
Weakest areas in my opinion are the keyboard (it feels a bit cheapy and the bottom-right corner of the space bar sometimes doesn't work) and the very tinny speakers.