Better built than before?
I mentioned the larger screen, and some of you will be pleased to know it has a matte finish across the range. Both the R500 and R600 suffered from an incredibly bendy lid, a result of Toshiba's desire to get the machines' thickness down. Not so the R700. Its lid is thin, but more rigid than before, though it clicks worryingly when you squeeze the upper bezel.

Not only extra cooling, but the addition of eSata and HDMI have bulked out the R700
That said, one of the chrome-look hinge caps was loose. Now that may be the result of a less-than-careful previous reviewer, but it doesn't bode well for the resilience of that part of the laptop.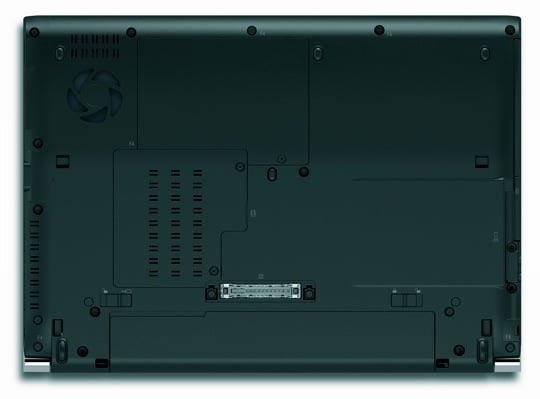 Toshiba hasn't ignored dockers
The keyboard is of the calculator variety, but there's little flex and it's fine to type on. The trackpad is of a reasonable size, with two separate buttons and a fingerprint reader between them.

Still packs in ExpressCard bay, memory card slot and an optical drive
The bigger bulk has done nothing for the R700's weight. The model I tested weighed 1.4kg, but the optical-less versions come it 1.3kg. Either would have been impressive in 2008, but not now - doubly so when you consider that the SSD-equipped R500 weighed just under a kilo.
COMMENTS
Am I the only one...
... getting a bit sick of Intel's crappy on-board graphics chips? If a laptop is going to have a multi-core CPU running at multiple gigahertz surely it should have a better graphics chip than one that would have been underpowered 8 years ago.
Maybe it's because I'm a hopeless gamer who can only judge hardware specs on the basis of how well they'll run Crysis?
16:9 screen?
don't buy it! demand 16:10
Re: Battery Life
Ahem...
http://www.reghardware.com/2010/11/15/review_notebook_toshiba_portege_r7a00/page4.html
Battery Life
Any thought to mention how long this thing will go between charges?
Home user option: Satellite R630
I recently bought the Satellite R630, which is the home-user focussed equivalent. It's missing some business-oriented features (e.g. fingerprint reader and docking station port), but is a lot cheaper.
I was looking for a compact yet high-performance laptop with Intel innards for hopefully-better Linux support.
After my previous laptop's discrete graphics card kept overheating, I welcomed the Intel graphics card. It's performance has been fine for my needs so far.
Mine came with the 64-bit version of Windows 7 Home premium.
Weakest areas in my opinion are the keyboard (it feels a bit cheapy and the bottom-right corner of the space bar sometimes doesn't work) and the very tinny speakers.