Putting on a few pounds
The 12.1in, 1280 x 800 16:10 screen has made way for a 13.3in, 1366 x 768 16:9 job which has necessitated a wider chassis that takes the machine out of the sub-notebook category. It's also thicker. The R500 and R600 were less than 20mm thick - now it's 26mm, more if you include the feet. Six millimetres may not seem much, but the R700 certainly feels a lot larger than its predecessors.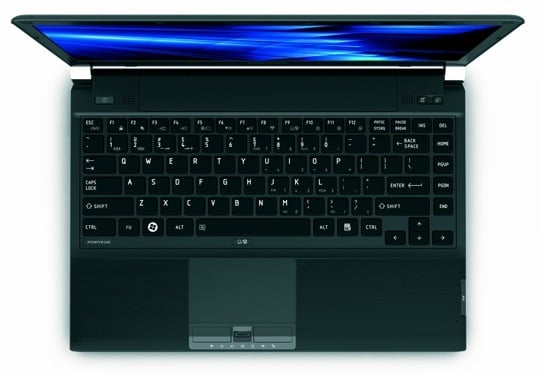 Not a bad keyboard
As I say, the R700 has gained an HDMI port, and one of its three USB connectors doubles-up as an eSata port, but its the introduction of Intel's Core i series of CPUs that has really mandated the bigger case, needed to accommodate the cooling that wasn't necessary for the ultra-low voltage CPUs used in previous R-series machines.
The model I tested, the R700-155, comes with the 2.66GHz Core i7-620M, but the 24-member range comprises mostly Core i3 and i5 models. A third - this one included - have 4GB of 1066MHz DDR 3, the rest have 2GB. Storage runs to 320GB of hard drive space, or a 128GB SSD, which is what you'll find in the R700-155.
All of them use the graphics core integrated into the CPU, and include 2.4/5GHz 802.11n Wi-Fi and Bluetooth 2.1. They're pre-installed with Windows 7 Professional, but it's only 32-bit, a bonkers choice in this day and age.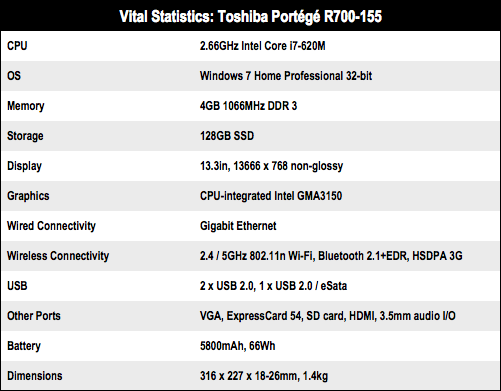 COMMENTS
Am I the only one...
... getting a bit sick of Intel's crappy on-board graphics chips? If a laptop is going to have a multi-core CPU running at multiple gigahertz surely it should have a better graphics chip than one that would have been underpowered 8 years ago.
Maybe it's because I'm a hopeless gamer who can only judge hardware specs on the basis of how well they'll run Crysis?
16:9 screen?
don't buy it! demand 16:10
Re: Battery Life
Ahem...
http://www.reghardware.com/2010/11/15/review_notebook_toshiba_portege_r7a00/page4.html
Battery Life
Any thought to mention how long this thing will go between charges?
Home user option: Satellite R630
I recently bought the Satellite R630, which is the home-user focussed equivalent. It's missing some business-oriented features (e.g. fingerprint reader and docking station port), but is a lot cheaper.
I was looking for a compact yet high-performance laptop with Intel innards for hopefully-better Linux support.
After my previous laptop's discrete graphics card kept overheating, I welcomed the Intel graphics card. It's performance has been fine for my needs so far.
Mine came with the 64-bit version of Windows 7 Home premium.
Weakest areas in my opinion are the keyboard (it feels a bit cheapy and the bottom-right corner of the space bar sometimes doesn't work) and the very tinny speakers.