Samsung's Android tablet: split and eviscerated
Inside the wannabe 'iPad killer'
The race to dethrone Apple's iPad as top tablet has begun in earnest, with Samsung's Galaxy Tab now available, and others such as RIM's BlackBerry PlayBook waiting in the wings.
To see how the Galaxy Tab's innards stack up to those in the Cupertinian "magical and revolutionary" device, the repairmen and vivisectionists at iFixit split one open — with the help of a guitar pick, tri-bladed screwdriver, heat gun, and other weapons of tablet destruction.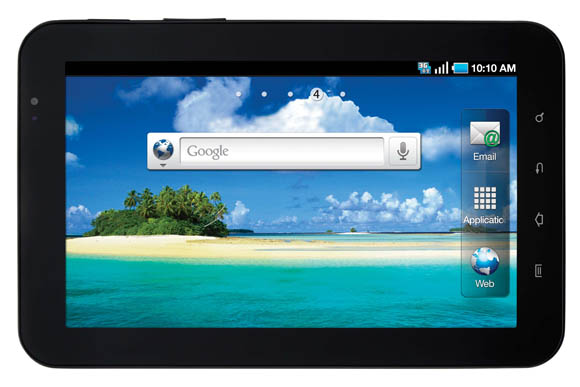 The first serious challenger to the iPad: Samsung's Android-powered Galaxy Tab (source: Samsung)
What the found inside was a disappointing camera, an impressive processor, and a battery about half the size of Jobs & Co.'s market leader. Well, at this point in the tablet tussle, "market-owner" would be more accurate.
The size of that smaller battery — which iFixit says is "about 55 per cent the weight and 60 per cent the capacity" of the iPad's battery — is necessary due to the fact that the Galaxy Tab is significantly smaller than the iPad.

The Galaxy Tab (top) is both smaller and chubbier than its Jobsian rival (source: iFixit)
With its 7-inch display — the iPad's is 9.7-inches — the Galaxy Tab is, in the words of Steve Jobs, "dead on arrival." Despite Jobs' "size does matter" flak, the Galaxy Tab's Android operating system has already gained a trove of smartphone followers — it remains to be seen whether it'll capture tablettrons as well.
Samsung certainly thinks so. They've boasted that they plan to sell 10 million of the little fellows in the device's first year.
Inside the Galaxy Tab, a goodly amount of space is taken up by the aforementioned battery — not unusual for most, if not all, handheld devices. Samsung claims that the battery can power "up to 7 hours" of video playback. If you absolutely must watch Lawrence of Arabia twice in succession, the Tab would be 12 minutes short of accommodating your inordinate love of sand.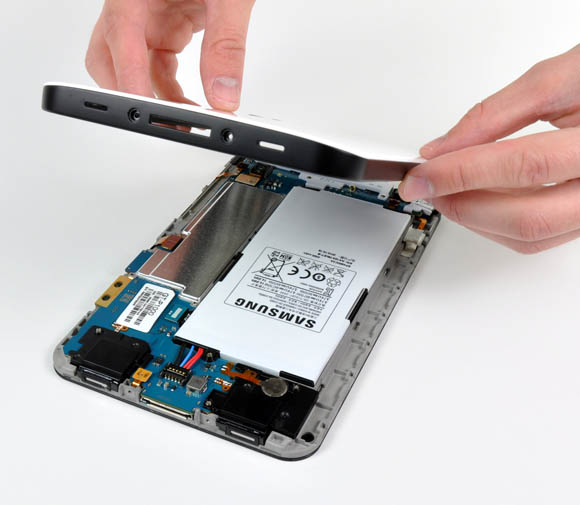 Yes, the Tab's back is white — a fashion statement that Apple can't seem to achieve (source: iFixit)
The iFixers weren't impressed with the Tab's rear-facing camera, noting in an email that its 3.2 megapixelage is "a bit sub-par for a device of this caliber, seeing how much smaller devices (like the original Droid) are packed with 5 MP imagers."
The Tab's processor and memory subsystem, on the other hand, is crackerjack: a 1GHz ARM-based, Samsung-branded Hummingbird that shares its package with 1GB of RAM, 128MB of DRAM, and 384MB of low-power Mobile DRAM. There's also 16GB of SanDisk NAND flash.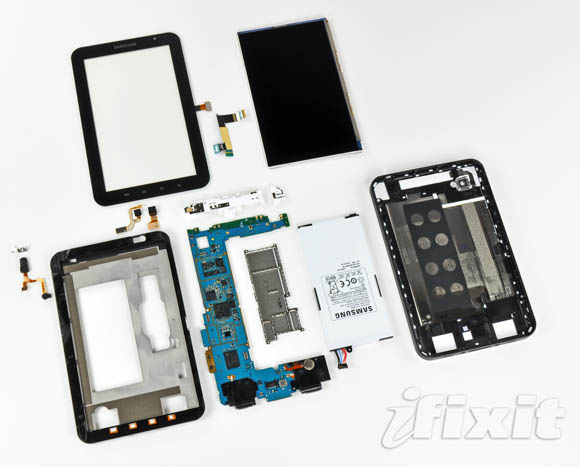 Even in a seven-inch form factor, that logic board doesn't appear crowded (source: iFixit)
For more info on the Galaxy Tab's internal organs, check out iFixit's full tabular teardown, with 42 photos in 20 steps. ®
Sponsored: Minds Mastering Machines - Call for papers now open