Visual feast
Picture quality from DVD was also well up to snuff. Using the XW-NAV1 to the watch the DVD of The Return of the King on a 50in LG plasma, the end results were highly impressive. Clearly it wasn't a native 1080p source, but everything was still commendably crisp with no judder and no visible image artifacts. Performance was equally good with the various standard definition AVI files I tried.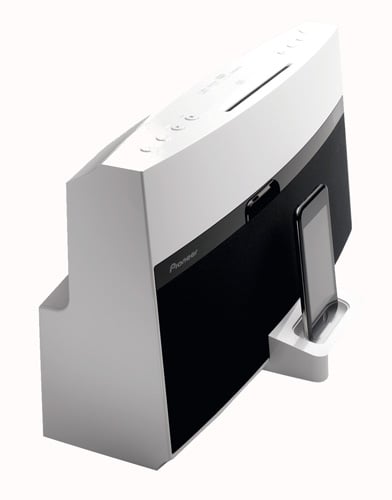 The DVD drive at the top can also be configured to rip audio CDs
I'm not entirely sure if the CD ripper function will get much use since, unsurprisingly, you can't use it to copy music directly to your iPod/Phone, but only to an attached USB drive. For those still interested, tracks can be ripped as either 128, 192 or 320kbps MP3 files. One final word of warning for anyone wanting to play variable bit rate music files through the XW-NAV1's USB socket. You can't, it's fixed bit rate or nothing.
Verdict
If you have an HDMI telly in your bedroom or kitchen and want a device that acts as a one box DVD home cinema system – while at the same time working as an iPod/iPhone dock and FM radio – the Pioneer XW-NAV1 is just the job. At £250, it's no more expensive than a half decent dock, DVD player and cheap 2.1 speaker system bought separately, but it's a darned sight more convenient. ®
More Audio Gear Reviews…

Ten Essential...
Bedside iPod docks
Ixos
Divo
Ten Essential
Premium
iPod Speakers
Arcam
Solo Mini

Pioneer XW-NAV1 iPod dock and AV centre
Convenient iPod dock featuring HDMI and support for compressed video formats, with a DVD player and CD-ripping to boot.
COMMENTS
OMG
Far too much black plastic for my liking. The design (cough) on this thing is awful.
For other animal lovers
"the USB port's cover isn't tethered, so it's likely to get lost or eaten by large dogs "
Or if you have a cat - dribbled out of the door, down the stairs, and under the sofa.
I think all manufacturers of devices with an unsecured USB cover should at least tell you how to get hold of a replacement.
Ohhhhh Goody!!
Yet another iPoop dock. <Yawn>
At this rate every iPoop owner on the planet will be able to have their very own custom designed iPoop dock. I'd like mine shaped like Paris and when the music stops I want it to scream for more. <LOL>