Panasonic Pure Line TX-L37D28 37in LCD TV
Looks a picture
Panasonic's VieraCast provides access to a number of Internet services, such as YouTube and DailyMotion videos, Skype, Picasa and Twitter. There's also a VOD service called AceTrax, which turns out to be even more expensive than Apple's iTunes - £10.99 for Iron Man 2, compared to £9.99 on iTunes. However, I was disappointed to see that there was no sign of the BBC iPlayer, or of the LoveFilm service to which I subscribe.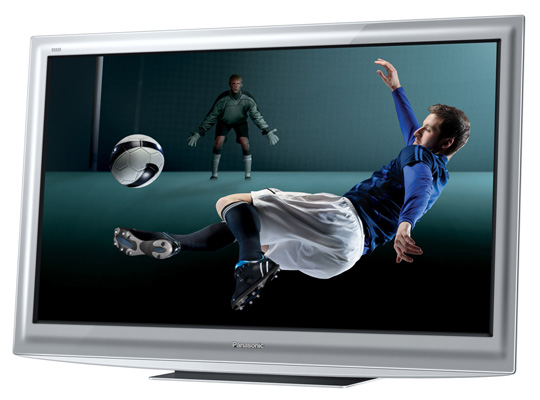 Impressive picture and looks good too, despite its plastic construction
There were a couple of rough edges on the EPGs too. Like a number of other Panasonic televisions, the TX-L37D28 has the nerve to slap adverts onto the Freeview programme guide. Not only are these annoying and intrusive, but they also take up a large chunk of the screen and reduce the one-day view to only an hour and a half of upcoming programme info.
There's no advertising on the Freesat EPG, but when you change channels both EPGs have the irritating habit of asking you to confirm whether you want to watch or record that channel. If I wanted to record a channel I'd press the 'Record' button, so this quickly becomes rather tiresome.
Verdict
The TX-L37D28 gets it right where it matters most, with the IPS/LED display producing very good image quality for a TV in the sub-£1000 price range. The dual tuners for Freeview and Freesat are also very welcome, as is the comprehensive set of interfaces and connectivity options. However, it is marred by its underwhelming build quality and the annoying niggles in the programme guides - I'm not paying £900 for ads on the EPG - which prevent it from really standing out amongst its rivals at this end of the market.
®
More HD TV Reviews

Group Test
Freeview HD TVs
Philips
32PFL9705
Ambilight
Sony
Bravia
KDL-46EX403
Group Test
3D TVs

Panasonic Pure Line TX-L37D28 37in LCD TV
37in LCD TV with Freesat, Freeview - and ads in the EPG