Nintendo readies 'limited edition' Mario Kart Wii pack
Celebrates 25-year-old game by bundling 18-year-old game
Nintendo is takling the threat from Microsoft's Xbox 360 Kinect and Sony's PlayStation Move with... a bundle.
It's packaging the black Wii - complete with black Remote, black Nunchuk and the usual copy of Wii Sports - and a black Wii wheel plus Mario Kart Wii.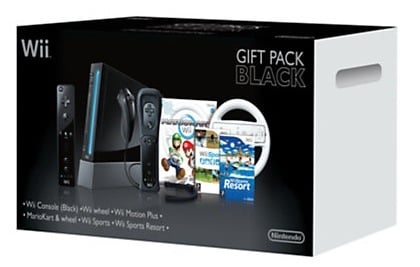 This being the 25th anniversary year of Super Mario expect the box to be stickered accordingly. Mario Kart is itself 18 years old, having been initially released for the SNES in 1992.
The Super Mario 25th anniversary Mario Kart Wii Pack launches across Europe from on 26 November, said Nintendo. No word on pricing yet.
It should have told John Lewis, which is already selling a very similar bundle for £183. ®
COMMENTS
Original Mario Kart
How is the original Mario Kart bundled with this (as the strapline says)? Free download, preinstalled on virtual console, or quite what, do you know?
John Lewis
The picture is from the similar package from John Lewis.
Mario Kart Wii with the Wii Wheel is ok for a while.
Eventually it ends up hurting the arms and you just want to sit with the classic controller.
Definitely why I asked Santa for F1 2010 and not 2009
black Wii wheel plus Mario Kart Wii.
The Wii wheel in the picture on the box looks particularly white.