'Superb' Apple 1 on the block for £100k-£150K
1976 Jobs garage tech can be yours
Forgotten Tech An original Apple 1 made by Steve Jobs and Steve Wozniak in Jobs parent's garage goes on the auction block in London this month.
The Apple 1 was designed by Jobs and Steve Wozniak in 1976. Just 200 were made, according to the website Old Computers, and up to 50 are thought to survive.
At the time they cost $666.66, but Lot 65 is expected to fetch £100,000- £150,000, according to Christies, which says it is in superb condition.
Lot 65 has its original packaging, with the garage's return address on the typed label. Also included are the original manuals, a letter from Steve Jobs and an invoice dated 12/7/76.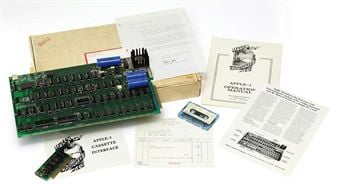 Apple 1 - It could be yours
According to Christies, the Apple 1 was the first pre-assembled PC - no soldering required. As you can see from the picture above there was no casing, monitor, power supply, or keyboard. But in principle, it worked out of the box.
We have lifted the picture of an Apple 1 with lovely wooden casing from Wikimedia, so you can see what it looked like in anger.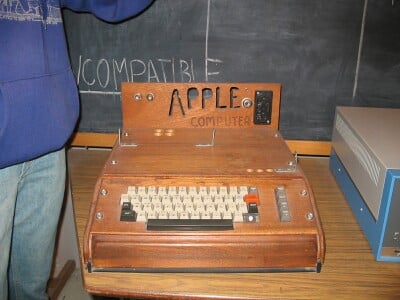 Apple 1 - lots of lovely wood
The website Old Computers has more about the Apple 1 spec.
Christies has assembled a strong list of works - composed by iconic names from the science and technology worlds - and another rare bit of kit for the Valuable Printed Books and Manuscripts auction on November 23.
These include:
An Enigma Machine used to code break German messages in the second World War (estimate £30k-£50k)
A collection of offprints by Allan Turing (estimate £300k-£500k)
A paper by Charles Babbage 'On a method of expressing by signs the action of Machinery' (£10k-£15k)
THE IMPORTANT FIRST ANNOUNCEMENT OF THE DISCOVERY OF DNA, SIGNED BY WATSON, CRICK, WILKINS, AND STOKE (£50k-£80k)
Patent specification for ENIAC, the world's first electronic computer (£6k-£9k)
A manual co written by Grace Hopper (£1,200-£1,500)
Happy bidding. ®
Sponsored: RAID: End of an era?