iPhone 4: the best built smartphone...
...but also the one most likely to slip from your hands
Looking for the most reliable smartphone? You'll want the iPhone 4 then. Keen to avoid the handset most prone to accidental damage? Steer clear of the... er... iPhone 4.
SquareTrade, a US provider of extra warranty cover, tracks such details, and last night revealed that, according to the claims made against its warranties, the iPhone 4 was the least likely of 50,000 smartphones to develop a fault.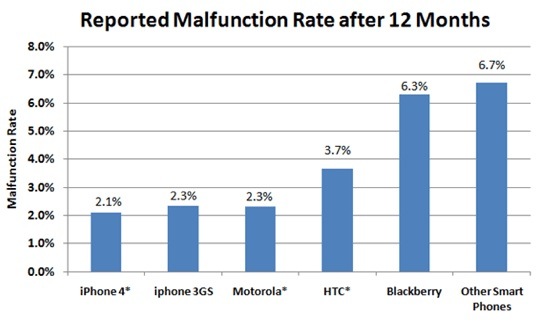 *Projected
Source: SquareTrade
Interestingly, despite their complexity, smartphones are generally less likely to malfunction than all other categories of consumer electronics save digital cameras.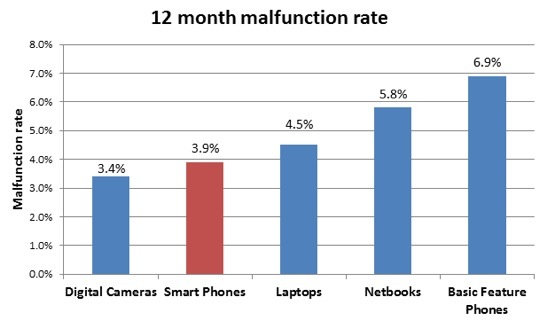 Source: SquareTrade
All well and good, but then those pesky darn users get their hands on the things. When that happens, the iPhone 4 has a higher accident rate than other smartphones.
SquareTrade's numbers, as quoted here, are projections, we should point out, taking the iPhone 4 and other handsets to 12 months from launch. SquareTrade has a lot of experience handling these kinds of data, so we're inclined to trust its numbers.
So, after 12 months, the iPhone 4 will have an accident rate of 13.8 per cent - almost one in seven of them will have been dropped and broken, trodden on or whatever. Compare that to the iPhone 3GS' rate of 9.4 per cent, an aggregated Motorola score of 12.2 per cent - a figure shared with HTC - and 6.7 per cent for all BlackBerrys.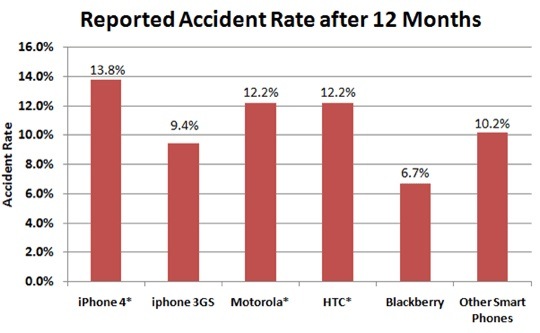 *Projected
Source: SquareTrade
That last number is interesting: the BlackBerry malfunction rate after 12 months is 6.3 per cent, the highest, according to SquareTrade.
So CrackBerry fans take greater care of their handsets, but that's probably because they expect them to break fo their own accord.
SquareTrade's numbers show that the iPhone 4, while well made, has not been well designed, at least from a usage perspective. Its materials and construction may be the acme of hi-tech, but it's simply not as resilient when dropped - and the handset shows a greater number of drop-and-break incidents than other smartphones, according to SquareTrade - and/or has a design that's easier to drop - in other words, it's slippery.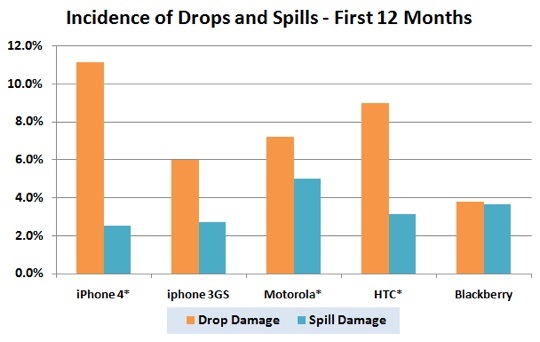 *Projected
Source: SquareTrade
You'd not expect one phone's users to be any more accident prone than any others, so it's clearly the handset at fault.
And any wag eager for cheap laughs who wants to suggest that Apple users are more prone to accidents, dippy lot that they are, should note that the iPhone 4 and the iPhone 3GS have lower spill rates - fewer folk knocked coffee all over them - than other smartphones.
Indeed, the 3GS' accident score is below all others except BlackBerrys. In short, iPhone users are not, of themselves, more likely to damage their handsets. ®
Sponsored: Minds Mastering Machines - Call for papers now open