Gaming evolved
Displaying your body in a green-tinged video feed, and with a colourful wireframe overlay, your first look at Kinect's motion capture is revelatory. The wireframe mirrors your every move. Ankles, feet, wrists and elbows are all tracked independently in real-time and with no noticeable lag.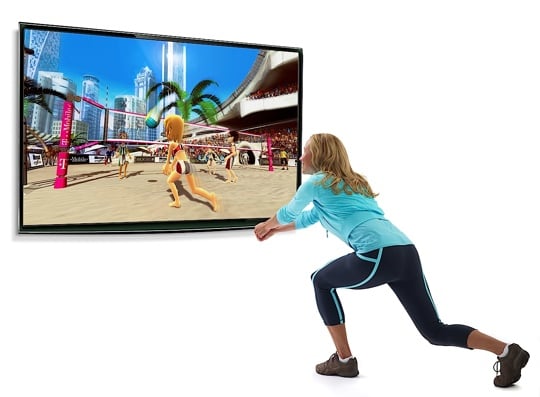 Good for the glutes?
It's like touching one of 2001: A Space Odyssey's obelisks, as your brain races ahead with future possibilities. OK, so that's a bit of a stretch. But it is - for those old enough to remember - like the first time your parents brought home a video recorder, or the first time you used a personal computer.
Unlike those technologies, however, Kinect requires no explanation. It's not instruction guiding your first tentative steps in this new world, but intuition. Kinect talks your language. It makes you feel you've spent years subservient to technology and the unnatural interfaces and command lists it has imposed upon you.
Kinect feels liberating, as it places you firmly back in control with natural gestures and voice commands.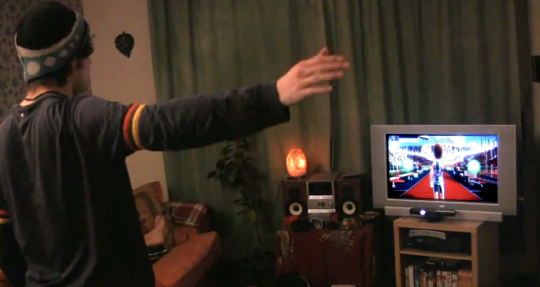 What it really looks like
Impressive enough on your own, the technology really shines with others in the room. Kinect can recognise and track up to six players at a time – two in the active play space and four additional persons outside it. And with facial recognition software that puts my Alienware PC to shame - working in almost every light condition and at almost every conceivable angle - players only need to step into a prominent position to be recognised.
COMMENTS
RE: re: I have to say.
I think the blinkers might be elsewhere if you can't see any limitations to Kinect.
"What you have left is a games console that will play a stack of good controller-based games"
So people should buy Kinect because when they are bored of waving their arms about, they can always go back to using a controler?
The things that gets me about Kinect is that it doesn't do fingers, it lacks the necessary resolution. You can't pick stuff up, let it go, pull a trigger, grab things, turn something around in your hands or even select things with a "click". Look at the videos on youtube and you'll see that selecting something is done by hovering your hand over an icon for a period of time, there is no click.
Clench your fists and think about what games you could play and how easily you could intereact with a virtual enviroment with no buttons to press.
This is refelcted in the current games, River rapids enables you to go left right and jump. Joy ride enables you to go left right, jump and boost. There is also a sonic game where you go left, right, jump. None of those games require Kinect, they can all be done on a controler with three buttons.
If you really don't see any limitiations to Kinect other than "your house might be too small" then I would honestly question the motives behind the review.
Why do I care? I don't know. I think it's something to do with having a dislike for people being encouraged to make a purchase based on the output of a multi million dollar hype machine rather than the actual capabilities of a product.
Already there are videos across the Interwebs
demonstrating how Kinect gaming in confined spaces rapidly leads to people being smacked in the face, kicked, knocked over and otherwise pwned outside of the virtual arena. Expect more.
Confused by your score
You score Kinect 90%, the same as Move was scored back in September. The Move review was glowing and positive throughout, and yet the tone of this review is markedly different including this phrase in the concluding paragraphs;
"But there's no ignoring Kinect's severe limitation. "
You talked of lag in control and other aspects that were not good about Kinect, and yet it rates a 90%? Sorry, maybe I'm just confused, but that score seems a bit generous for a product about which you use the phrase "But there's no ignoring Kinect's severe limitation. "
Could it be a small amount iof inherent bias? Advertiser pressure? Really, I think we need to know because I've never seen a review that marks something 9/10 and yet is critical of it to the point of talking about a "severe limitation" within the product.
Re: Kinnect has been downgraded from its original design
IMHO, that's a particular esoteric feature that was cut out to save costs.
I hate to stand up for M$ here, but if it does indeed release 'Kinect 2' in short order with extra features for extra money, it will be just the latest in a *very* long line on vendors to do this.
New product in 'better version coming down the line' shock....
Why physical?
Why does the feedback need to be "physical" and not "visual" or "audio"? The human brain is good at adapting to situations. A good on-screen visual and audio feedback system can be just as good, if not better, than a small rumbling sensation in your hand. I dont see this as a limitation of Kinect, only another means that Kinect changes the accepted norms of today!