Psychic Octopus rates iPad, PS3 Move for Xmas success
Gadget win predictions are for suckers
When it comes to deep-sea creatures, psychic powers appear to run in the family. Mystical mollusc Ollie the Octopus has followed in the tenticle-steps of his world famous cousin, Paul, and made some telepathic predictions of his own.
Ollie says Samsung's Galaxy Tab, dubbed "the iPad Killer" by some, actually has no chance of knocking Apple's best-selling tablet off its perch. Safe bet, Ollie, but I doubt it'll be possible to make a few squid off that tip.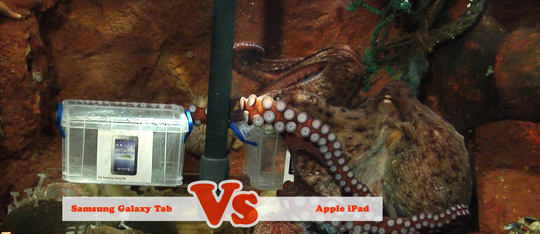 Oracle Ollie in action, click through for Kelkoo's video clips
Back in June, Ollie's cousin, Paul, correctly predicted that Spain would win the World Cup as well as the winner of each match Germany contested in the finals. Paul sadly shuffled off his mortal coil a few weeks ago and left Ollie as his only surviving relative.
Price comparison giant Kelkoo announced Ollie's predictions and said they fall in line with a recent survey it conducted. According to Kelkoo's research, more than two-thirds of consumers side with the iPad over the Galaxy Tab and RIM's BlackBerry Playbook.
The predictions didn't stop there, though. Ollie still had enough psychic power left to let us know whether PlayStation 3 Move will outshine Microsoft's Kinect in the battle for gaming supremacy this Christmas.
While dolphins may disagree with Ollie's admiration for the iPad, the crowds that gathered outside Game on Oxford Street last night would almost certainly disagree with his motion-gaming predictions.
Microsoft catered with free pizza and Kinect's creative director, Kudo Tsunoda, was at hand to chuck out stacks of gloves and T-shirts to those in line for the midnight launch.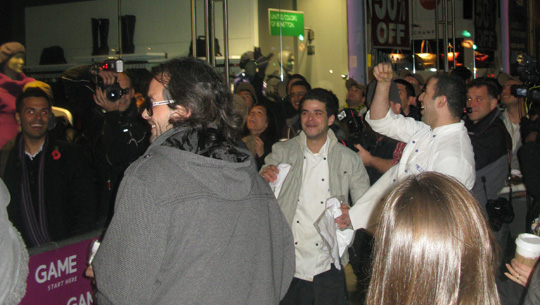 Kudos to Kudo for wearing sunnies at night
The gloves may have kept limbs from going stiff in the cold, but they won't prepare them for the aches over the coming days after the rigorous exercise gamers undoubtedly put them through when they got home. ®
Sponsored: Minds Mastering Machines - Call for papers now open