NEC intros Android tablet 'cloud communicator'
LifeTouch untouchable?
NEC has taken the wraps off its entry into the Android tablet - sorry, "cloud communicator" - arena.
Said gadget is branded the LifeTouch, and it goes on sale at the end of the month. NEC said it is aiming the "cloud communicator" - don't mention the T word - at big business, but since it also lists "electronic books, home services, e-shop, entertainment, etc." among the LifeTouch's "expected uses", we figure it's hoping individuals will step up to the plate too.
The ARM A8-powered gadget features a non-glossy 7in, 480 x 800 display with a "retina touch panel", which might mean it's capacitive or might not, but the mention that it's "pen operable" suggests it's resistive. Likewise the plethora of controls on the front.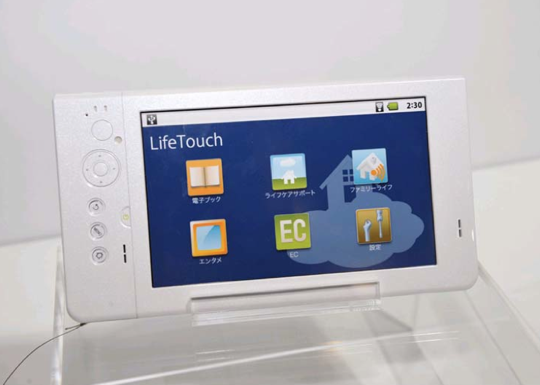 iPad simple it's not.
The tablet contains 384MB of Ram but seemingly no storage - you need SDHC cards for that. It has two USB 2.0 ports - one big, one mini - 802.11b/g Wi-Fi, Bluetooth 2.1+EDR, a 3MP camera, and GPS.
It runs Android 2.1.
NEC claimed the 220 x 120 x 14mm, 370g tablet's battery is good for eight hours' continuous usage.
NEC announced the LifeTouch in Japan, so we'll have to wait and see whether the device makes it over here - or is cheap enough, given the resistive screen, to compete with the low-cost tablets coming in from China. ®
Sponsored: Minds Mastering Machines - Call for papers now open