Microsoft Xbox 360 Kinect Launch Games
We rate the first six titles
Kinect Joy Ride

The first-party launch title I was least looking forward to playing, Kinect Joy Ride surprised me with its fun play and unexpected depth. But loose, often unresponsive controls, ultimately let down the experience, and it was the only Kinect game that made me yearn for a traditional gamepad.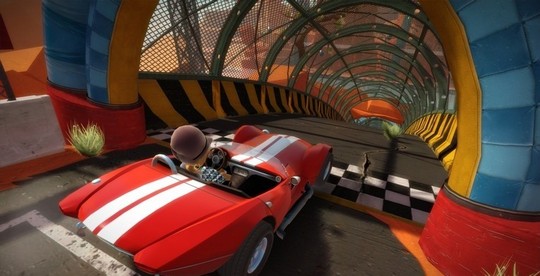 Steep at launch
With colourful, vibrant, cartoon visuals, Joy Ride offers a wealth of driving modes, including straight race championships, the Mario Kart-inspired Battle Race, and the excellent Stunt Mode. Coupled with these, Joy Ride's holistic system of progression and collectible cars and trophies provide the game with a level of depth more often associated with Triple-A racers.
All Joy Ride's modes are well thought out, and as a package I can't fault it. But underlying mechanical issues are impossible to ignore, and of all the first-party games tested, it's the weakest display of the Kinect technology.
Driving is let down by no acceleration or braking, drastically limiting user input. You simply have to steer left or right, and pull back and push forward for a temporary boost. It removes much of the challenge and satisfaction of driving. Worse still, steering is loose and subject to occasional lag, and there is always momentary confusion when ending tricks and beginning to steer again.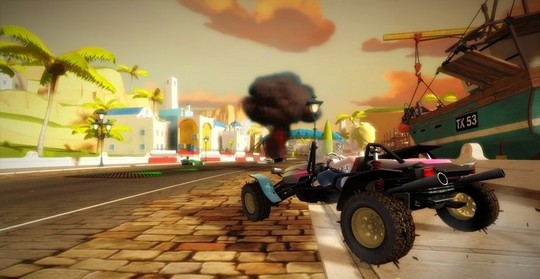 Steer clear
These mechanical weaknesses undermine an otherwise enjoyable game. And, while it hints at a bright future for Kinect driving games, and is itself by no means unplayable, Joy Ride will soon be overtaken by far better racers.

Reg Rating 60%
Price
£40
More Info
Microsoft's official Kinect Joy Ride website
 More Kinect on Reg Hardware
Sponsored: Minds Mastering Machines - Call for papers now open