Harvard prof thumps Google for 'tiny' search ads label
Google's shock 'we serve ads' claim deconstructed
Google is now labeling its search ads as "ads" — not "sponsored links." On the surface, this seems an admirable change, but for Harvard professor and noted Google-watcher Ben Edelman, the new label may not adhere to the search-advertising guidelines laid down by the Federal Trade Commission.
"When I evaluate disclosures, I tend to look at the two factors specified by FTC precedent: disclosures should be both 'clear' and 'conspicuous,'" Edelman says in a blog post. "The 'Ads' label is probably a step forward in clarity. However, the FTC instructs evaluating not only whether a disclosure is clear, but also whether it is conspicuous. On that front, I believe Google's 'Ads' label falls importantly short."
Google's "Ads" label is "absolutely tiny," he says, and its grayish color makes it hard to see:

Google ad labeled as an ad
Edelman compares the "Ads" label to various other elements on Google's search results page: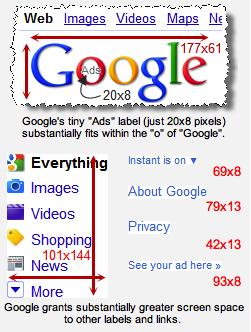 "It measures just 20 pixels wide by 8 pixels tall, a total of 160 on-screen pixels of display area," he continues. "Compare the various other page elements shown at right — even the small "Instant is on" label more than three times as large as the 'Ads' label," Edelman says. "Indeed, as I show in the top-most image at right, Google's "Ads" label substantially fits within the 'o' of 'Google'! Combine the label's small size with its placement at the extreme corner of results, and the label is the very opposite of 'conspicuous.'"
Edelman then compares Google's gray label to a would-be black label:

"A simple black label, in the same font size, would be strikingly more noticeable. Compare the bottom two images at right. The second image, showing the "Ads" label in simple black, is taken from a screenshot I prepared after manually adjusting CSS...The darker text takes up no additional space, but it offers higher contrast against the white background — hence more noticeable and easier to read."
Edelman also believes that "Ads" doesn't quite tell the whole story. "I believe the informality of the colloquial 'Ads' also deemphasizes the importance of the disclosure. Using an informal term suggests that the label is a casual matter, when in fact is a crucial disclosure required by law. A formal label written in full and formal words, for example, 'Paid Advertisement', would better convey the seriousness of the disclosure. Indeed, prior FTC litigation has systematically sought the label 'paid advertisement," he says, citing the 1993 case, FTC v. Michael S. Levey.
"I notice that plenty of space remains for a full label 'Paid Advertisements' or at least 'Advertisements.' If Google's true goal is to inform users — not just to increase advertisement clicks, as blogs have speculated — Google should adopt nothing less than 'Paid Advertisement.'"
What's more, Edelman notices that in some cases, Google is placing ads in the middle of its search result pages — not just at the top and on the side. And he points out that these ads still carry the "sponsored" label, just like other advertisements across other Google properties. "A user who sees both 'ad' and 'sponsored' listings would struggle to figure out whether the terms are interchangeable; even someone who believes 'sponsored' results are 'ads' may have second thoughts upon seeing Google use both terms on a single page. The solution is clear: Google should use a single label throughout the entire page."
Google, Edelman says, needs to change. Again. "But Google's current implementation falls short. Indeed, in many respects Google's recent changes have been for the worse. "Google should replace 'Ads' with 'Paid Advertisements' or another label that is clear, formal, and precise. Google should cease to merge algorithmic and advertisement results in a single list, and Google should be cautious in changing page layout in ways at odds with users' long-held understanding of where advertisements appear.
"All Google 'Help' pages should provide accurate and precise information, and Google services should use consistent labels to aid users in understanding that Google's 'Sponsored Ads' are in fact paid advertisements."
Some have questioned whether Google moved to an "Ads" label to save bandwidth, but the impact here is likely minimal. Earlier this month, Google boosted its bandwidth to a certain degree by moving to its "Instant" search setup, which updates search results as you type. ®
Sponsored: Minds Mastering Machines - Call for papers now open