Kingston Technology DataTraveler Ultimate 3.0 32GB
SuperSpeed storage on your keyring
Yet this inconvenience may be worthwhile for those who regularly move large amounts of data to or from at least one machine equipped with USB 3.0. To see if the device lives up to its spec it was benchmarked with Crystal DiskMark 3.0 using both USB 2.0 and USB 3.0 ports.
Benchmark Tests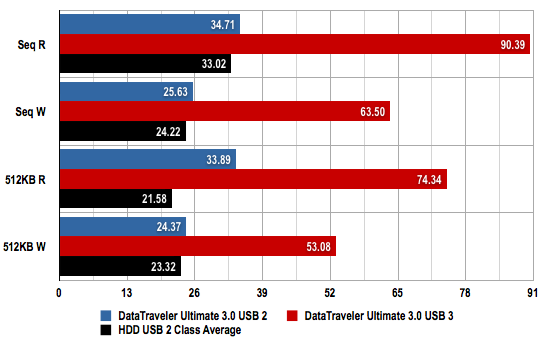 Tests suggest that Kingston has underestimated the DT Ultimate. With real-world sequential read speeds topping just over 90MB/s this is one seriously fast thumb drive. Even the sequential write speeds are above spec and the random performance is also excellent. This thing is as fast as a decent 7200RPM desktop hard disk, not to mention the significantly reduced access times as low as 0.7ms when tested with HD Tach.

Sponsored: Fast data protection ROI?