The walking dead
But these momentary retreads are the only minor flaws in an otherwise exhilarating campaign, the highlight of which is the latter part of the Vietnam War. Although only a few hours long, these levels provide the 'Nam videogame experience that Shellshock, Vietcong and Conflict Vietnam all failed to deliver in their time.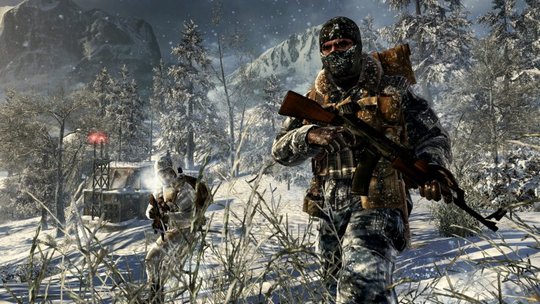 There's snow way forward
With fox holes, rat tunnels, monsoon rains, low-flying Hueys and The Stones' Sympathy for the Devil booming over the radio, it's as clichéd as you can imagine. But for anyone who ever wanted to go nuts in 'Nam, Black Ops serves up everything but the smell of napalm in the morning.
Black Ops' isn't just about the campaign mode, of course. There's a wealth of online and offline multiplayer modes, but late review code and a heavy press embargo make it impossible to draw thorough conclusions at this early stage.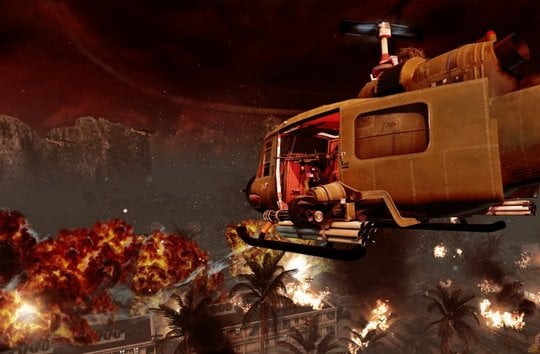 I love the smell of napalm in the evening
The little I can share is that multiplayer has 14 maps at launch, similar in size and scope to MW2, with tight corridors, alleyways and – at their highest – two-storey buildings. One or two are slightly larger than the largest MW2 maps, but they're sill a lot smaller than Battlefield's. Eight standard multiplayer modes can be played by competing teams assuming the roles of US Special Ops, Spetznaz, North Vietnamese Army or Cuban Tropas depending on the chosen map. And there are five regular classes based around main weapon loadouts and classes custom classes.
COMMENTS
Untitled
Would personally disagree with your statement Citizen Kaned. I can never be bothered playing online with kids and people who think its cool to just be a d1ck. For me and a number of my mates its the challenge of the SP game that matters.
Just my 2p :o)
My copy...
...has just arrived at home, no thanks to my girlfriend putting in the call to let me know.
I can't wait to put the kids to bed, run a bath for the misses, light a bad boy and get totally engrossed with shooting my mates online. Brilliant.
How many hours to complete the single player
It had better be a lot to justify a £55 price tag!
I know I know these games are sold for their online play bollocks. Well I don't play online I want a strong story single player game.
Try...
...chess.
I'll challenge you to a game, and I guarantee it'll take longer than 40hrs. At least on my goes. It'll only cost you a tenner.
Campaign?
8 to 10 hours of campaign for the best part of 50 quid? No thanks. Already got stiffed by COD:MW2 which lasted me less than 6 hours. I wouldn't mind but I'm actually pretty crap at games so if I can finish it in that time it's definitely not worth the money.
It's a real shame too as the screenshots look gorgeous and I'd love to play it, but I'm not getting ripped off like that again, I'll stick to games that give me a good 40+ hours for my money.