The forgotten, fat generation of Mac Portables
Long before the Air, there was Lord Lard Ass
Big battery, small hard drive
The Portable was powered by a 5-watt lead acid battery that weighed 2.7 pounds (1.2kg) — heavier than a new 11.6-inch MacBook Air, which weighs in at 2.3 pounds (1.06 kg).
In a futher indication of how times have changed, you could buy 11 MacBook Airs for the price of one Portable, when prices are adjusted for inflation, and still have a decent chunk of change left over for the rest of your holiday shopping.
Battery life ranged from six to 10 hours, depending (obviously) on hard-disk usage and other factors. You could also set your drive to power itself down after a period of inactivity — a somewhat novel feature at the time.
Also, the system would drop from 16MHz to 1MHz after being idle for 15 seconds, then pop back to 16MHz when it sensed activity. Screen brightness, of course, wasn't a battery-life factor, seeing as how the original Portable didn't have a backlight — but when backlighting did appear in a later model, reports were that it cut battery life in half.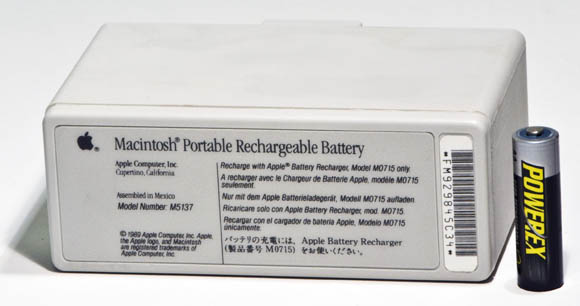 Shown next to an AA cell, the battery was 'Assembled in Mexico' during those pre-Foxconn years (click to enlarge)
One advantage of the Portable's battery, in those pre-lithium days, was that lead-acid batteries had no "memory effect" — which could not be said of their follow-on tech, nickel cadmium (NiCad) batteries, which would "remember" the level at which they were last recharged, and "learn" not to hold a full charge if not properly drained.
One distinct disadvantage of the Portable's battery system, however, was that its battery was in line with its power supply. As a result, if the battery were fully drained, power couldn't get to the Portable's guts, and the damn thing wouldn't boot.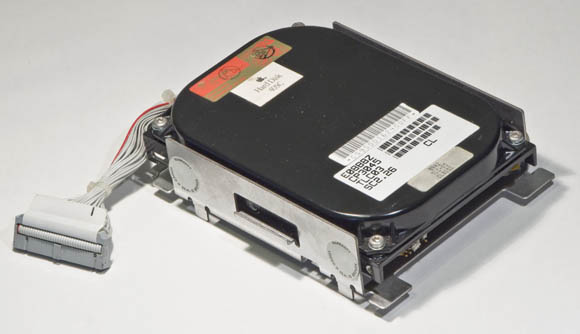 Twenty-one years ago, 40MB was plenty (click to enlarge)
You could choose to configure your Macintosh Portable with one or two 1.44MB "SuperDrive" floppies, or one floppy and a 40MB Conner CP-3045 3.5-inch hard drive with a 28-millisecond access time. By way of contrast, you can now buy a MacBook with a 7200rpm 2.5-inch drive with an average seek time in the 12ms range and a capacity of 500GB.
We'll do the math for you: it'd take 12,500 Macintosh Portable hard drives to equal the storage space in that MacBook drive.
Sponsored: Minds Mastering Machines - Call for papers now open