Caravan-swiping suspect spotted on Street View
Do you know this bald man?
Derbyshire Police have issued a Street View snap of a possible caravan thief.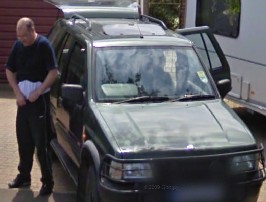 Back in June 2009, a Derbyshire family had their caravan nicked from their driveway. Despite forensic examination of the wheel clamps used to secure the caravan, police were unable to finger a suspect.
That is until March this year – when the caravan's owner had a peek at Street View.
He did not recognise the shiny-topped gentleman in the shell suit rearranging his undercrackers.
PC Adrian Mason of Derbyshire Constabulary said: "It is amazing that we have such a clear image of a man who we think will be able to give us information that would help the police enquiry. It was an amazing coincidence that the Google Earth car was passing at that time."
Mason said: "I've made extensive enquiries since the image was discovered but because the registration plate of the 4x4 is blanked out we have been unable to trace the man through his car. That is why we are appealing for the public's help."
After all the grief Google has been getting for "accidentally" slurping up Wi-Fi data, we bet it's glad that the benefits of its total surveillance are finally being demonstrated. Surely it's got an unblurred copy of the picture knocking about somewhere...®
Sponsored: Minds Mastering Machines - Call for papers now open