Harrods blings up Android tablet, quintuples price
If you need to ask...
If you've got more than two-and-a-half grand going spare and no taste, posh people's store Harrods has a custom Samsung Galaxy Tab with a back clad in 5700 Swarovski "crystals" that you can buy.
Apparently, the thousands of high-lead glass fragments were glued on by hand, and placed around a Galaxy Tab logo done in "Jet Hematite".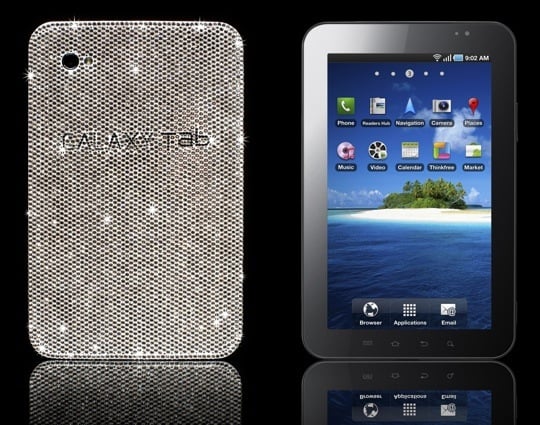 Says the blurb: "The crystalisation technique used has been honed to absolute perfection, with outstanding quality of workmanship which ensures every crystal is precisely positioned in its own perfect space."
So gullibility and vulgarity are pre-requisites of ownership...
Beneath the bling, it's a bog-standard Tab: 1GHz CPU; Android 2.2 OS; 7in, 600 x 1024 touchscreen; 16GB storage; GPS; Wi-Fi; 3G connectivity and all.

More money than sense? Hire a Hansom and head on down to Harrods where the horrid thing can be yours for the token sum of £2699. Reseller Micro Anvika - which runs an in-store concession selling the Samsung - will do other custom designs if you wish - and you have the wonga. ®
Sponsored: RAID: End of an era?