Facebook serves '23% of all US display ads'
Lords over Google, Microsoft, Yahoo!...
Facebook now serves up more display ads than any other outfit on the US web, according to the latest numbers from market-research outfit comScore.
In the third quarter, comScore says, the social network topped all other publishers with over 297 billion display-ad impressions, which translates to 23.1 per cent of the market. Its closest competitor was Yahoo!, with 11 per cent. Google — with 2.7 per cent — sat below not only Facebook and Yahoo!, but also Microsoft and Fox.
At Google, text ads are still king.
But Google now sits above AOL. Earlier this month, during AOL's third-quarter earnings call, AOL boss and ex-Google man Tim Armstrong said that Mountain View and Facebook were "taking share in display advertising," and apparently, he was right.
But it seems Facebook is taking much more. Facebook's market share has increased 13.9 percentage points since the third quarter last year, according to comScore. The display ads tracked by the research outfit include "static and rich media" ads, but not video ads, house ads, or ads that total less than 2,500 pixels in area: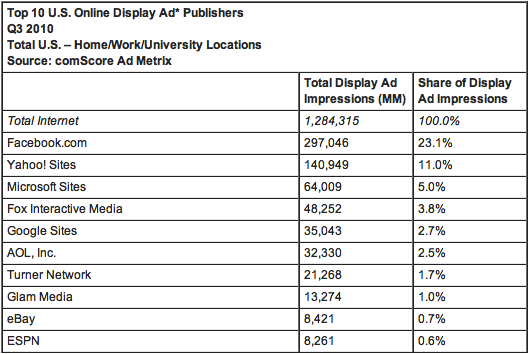 Facebook is still private, so it's unclear how much the company is actually making. But the rumor is that the company will top $2 billion this year. Less than three years ago, Google famously said that social-networking sites weren't "monetizing well". But it seems Facebook has turned that corner. And then some. ®
Sponsored: RAID: End of an era?