Phosphor World Time Curved E Ink watch
Not just for e-book readers, you know
Review Unlike almost every other modern gadget - TVs being a notable exception, perhaps - watches have been getting steadily bigger over the years, not smaller.
Miniaturisation is not the name of the game, even though microelectronics have replaced clockwork and batteries have replaced springs.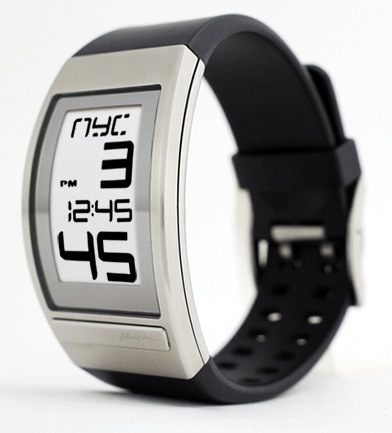 Phosphor Watches' World Time Curved: designer digital
Maybe too many guys hope that wearing a big-bezelled boy on their wrist really will make everyone else think they're racing drivers - the old four-wheeled penis extension no longer cutting the mustard - but these days chunky is in, compact is for the chicks.
It's fashion, of course, not technology that has driven this trend. My grandfather's low-end Omega was the height of manliness when he bought it in the early 1960s, but this heirloom now looks positively childlike compared to the "sports" watches favoured by my colleagues.
Not that advances in electronics have been ignored. Phosphor Watches' new dual world time offering is vast but it also packs in the latest in display technology: E Ink.
This watch is big in every way. The black plastic strap barely narrows below an inch, and the large buckle sports two prongs. The body of the watch is 30 x 60mm, and while it's only 6mm thick - "ultra-thin", boasts Phosphor - it still seems chunky to me.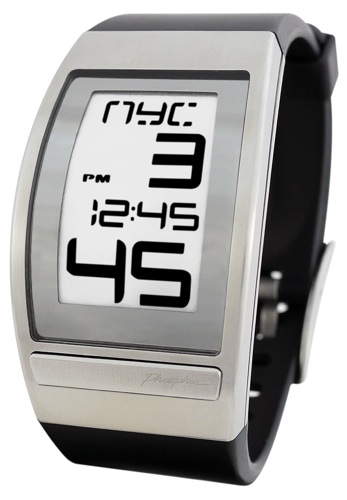 The display's 'paper' colour is rather more grey than the PR snaps suggest
Partly that's the extra space for the CR2032 battery, partly it's the stainless steel construction. Either way, this is watch that dominates your wrist. It wants to be noticed.
Sponsored: Minds Mastering Machines - Call for papers now open