Teufel System 8 THX Ultra 2 home cinema speakers
Now, where to put that 500W sub..?
What is a little surprising is the delicacy and attention to detail on offer. Areas that I'd found murky in the past seemed to have an additional audio spotlight thrown on them by the System 8, as it teased out the details and eased the effort of my ears. Speech is infallibly clear for instance, even throughout Mickey Rourke's performance in The Wrestler. A budget system would have its work cut out to make sense of mumbling Miceky, yet the System 8 never seemed to have any issues.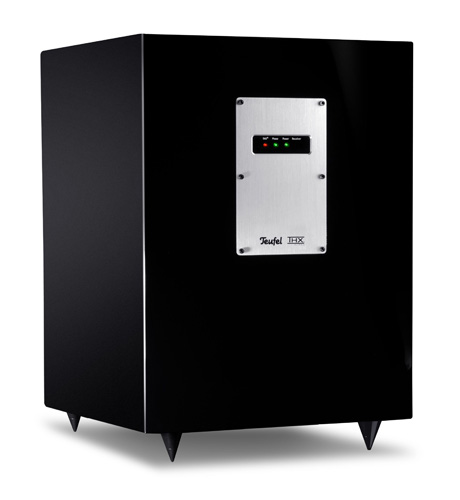 The sub cabinet is some kind of monster
The dipole surrounds work hard to ensure a diffuse ambience that works in the soundtrack's favour, helping you to feel immersed in the action rather than distracted by individual sounds from a specific point. Here too though there's plenty of punch, thanks largely to the wall-facing woofer, which helps to ensure you always feel immersed in the action.
As with other Teufel products, there's an eight-week test listening period, which gives you the chance to live with them for a little while. And if you don't like them, you can send them back without penalty – very useful since you can only buy them from the company's website, and won't have the chance to audition them in a showroom.
Verdict
A system with a spec like this is unlikely to disappoint sonically, the question is more about whether or not you need it. For the average UK living room (15.8m according to a recent CABE survey), the answer would probably be 'no'. THX Ultra2 is intended for rooms of around 100m3 and it's probably fair to say you wont' need them unless your room's at least half that.
With such a room though, big enough for the System 8's blocky aesthetics to be less of an issue, this powerhouse system can deliver oodles of oomph, balanced with a deftness of touch on details and quiet passages that fully justifies its not inconsiderable price. And if you find that it's just too much after that two-month test period, you could always swap it for the System 5. ®
More AV Gear Reviews...

Samsung
HT-C6930
Teufel
System 5
Panasonic
SC-BT735
Sony
BDV-E370
Sponsored: Minds Mastering Machines - Call for papers now open

Teufel System 8 THX Ultra 2 home cinema speakers
THX certified 5.1 speaker rig that delivers a cinema soundstage to your sofa.