007 Blood Stone
A view to a thrill?
The shame's Bond...
007 Blood Stone's greatest flaw is pacing. After the ubiquitous fight-and-chase prologue, the game tries its hardest to alienate players, first by torturing them with Joss Stone's ghastly theme tune, and then by submitting them to around three hours of flaccid, highly derivative cover and shoot gameplay.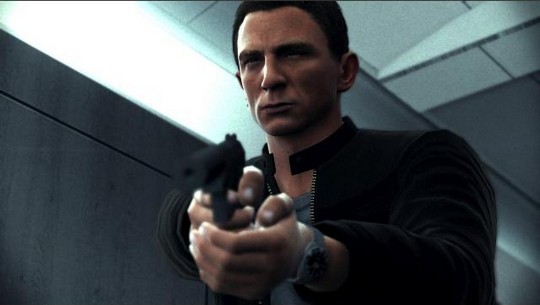 I'm going to unload in your face
Devoid of Splinter Cell's complex patrol patterns, and light and dark interplay, stealth is reduced to a game of patience, where guards patrol with comical predictability, and are picked off one by one as they lag precariously behind comrades. Going loud elicits a touch more self-preservation, but it's still a one-sided affair as, incapable of flanking, enemies saunter towards you, or bounce up and down out of cover, as if sitting on pogo sticks.
Bullet-sponge Bond can soak up so much lead that it's easy to jog towards enemies and use the single-button takedown for instakills. And, as if things weren't easy enough, takedowns are rewarded with Focus Aims - slow-mo, guaranteed head-shots which only differ from Splinter Cell Conviction's Mark and Execute by the width of an intellectual property writ.
Espionage is dumbed down too. With a gadget repertoire limited to a single "smartphone", which can scan computers, crack electronic locks, disable cameras and see enemies through walls, infiltration requires simply following objective markers and completing short button-sequence minigames.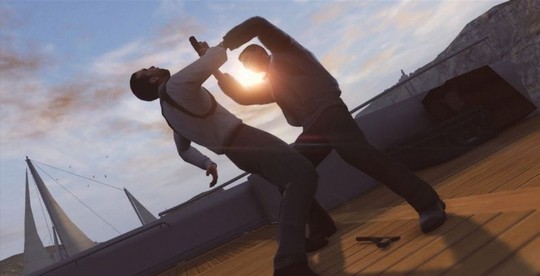 Top of the morning to ya, Double O'Seven
When infiltrating public areas, NPCs are embarrassingly oblivious to Bond's suspicious behaviour, as he walks around casinos or corporate offices with his smartphone extended curiously in front of him. Bound by heavily scripted routines, even when suspicion is raised - by purposely setting off a car alarm, for example - guards will rush to investigate, but won't bat an eyelid at Bond, no matter how odd your behaviour in front of them.
Sponsored: Minds Mastering Machines - Call for papers now open