Original URL: http://www.theregister.co.uk/2010/11/05/game_reviews_007_bloodstone/
007 Blood Stone
A view to a thrill?
Posted in Games, 5th November 2010 12:00 GMT
Watch Now : Virtual Machine Movement with Hyper-V
Review According to Matt Damon, there's very little to admire about James Bond, whom he once described as "an imperialist, misogynist sociopath who goes around bedding women and swilling Martinis and killing people".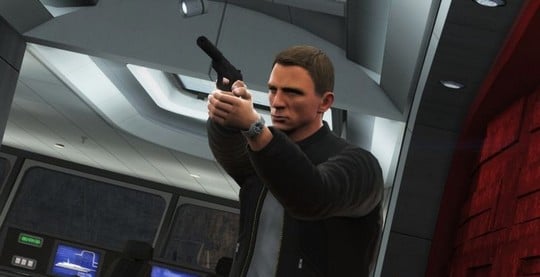 It's rude to point
Of course, were James Bond real and able to reply, he'd probably do so by licking Martini from Matt Damon's wife's naked body, then beating an apology from him and finally dropping him into a pool of man-eating sharks while quipping, "I'm no imperialist."
At first glance there's also very little to admire about 007 Blood Stone. You see, Bond is an exceptionally versatile character, as adept at driving and shooting as he is fighting hand-to-hand and leaping around cityscapes parkour style. The problem is, apart from a couple of notable exceptions, videogames have a poor record in successfully combining driving with any other mechanics. And, for its opening few hours, at least, Bizarre Creations' first Bond game struggles to prove otherwise.
But just as Bond's enduring literary and cinematic appeal is a testament to synergy - the elevation-by-combination of shallow plot devices, one-dimensional characterisation and, of course, guns, girls and glitz – 007 Blood Stone ultimately proves more than the sum of its individual flaws.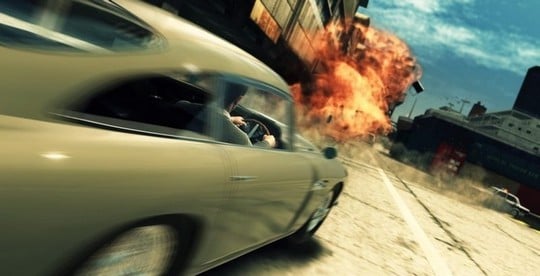 A quantum of polish?
Surprisingly, narrative isn't 007 Blood Stone's greatest flaw. However incoherent, the plot about arms traders, Russian oligarchs, biological weapons and a shadowy, nefarious NGO is at least true to the current Bond films. And, although the plot devolves into a barely intelligible excuse to span several continents and kill thousands of henchmen, some excellent cut-scenes and voice acting by Daniel Craig and Dame Judy Dench sustain interest - if not understanding – throughout.
---
The shame's Bond...
007 Blood Stone's greatest flaw is pacing. After the ubiquitous fight-and-chase prologue, the game tries its hardest to alienate players, first by torturing them with Joss Stone's ghastly theme tune, and then by submitting them to around three hours of flaccid, highly derivative cover and shoot gameplay.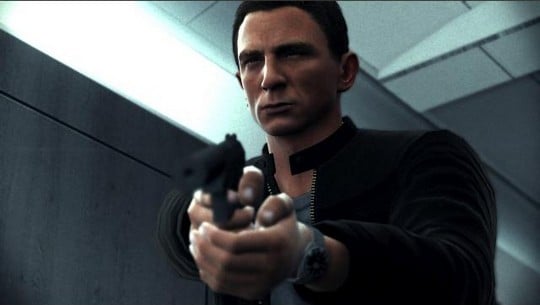 I'm going to unload in your face
Devoid of Splinter Cell's complex patrol patterns, and light and dark interplay, stealth is reduced to a game of patience, where guards patrol with comical predictability, and are picked off one by one as they lag precariously behind comrades. Going loud elicits a touch more self-preservation, but it's still a one-sided affair as, incapable of flanking, enemies saunter towards you, or bounce up and down out of cover, as if sitting on pogo sticks.
Bullet-sponge Bond can soak up so much lead that it's easy to jog towards enemies and use the single-button takedown for instakills. And, as if things weren't easy enough, takedowns are rewarded with Focus Aims - slow-mo, guaranteed head-shots which only differ from Splinter Cell Conviction's Mark and Execute by the width of an intellectual property writ.
Espionage is dumbed down too. With a gadget repertoire limited to a single "smartphone", which can scan computers, crack electronic locks, disable cameras and see enemies through walls, infiltration requires simply following objective markers and completing short button-sequence minigames.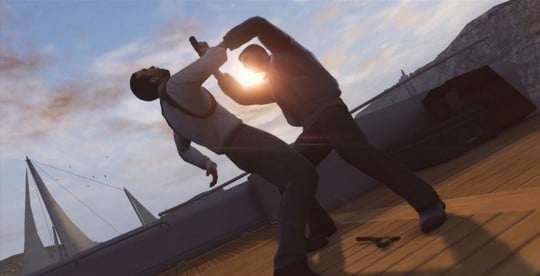 Top of the morning to ya, Double O'Seven
When infiltrating public areas, NPCs are embarrassingly oblivious to Bond's suspicious behaviour, as he walks around casinos or corporate offices with his smartphone extended curiously in front of him. Bound by heavily scripted routines, even when suspicion is raised - by purposely setting off a car alarm, for example - guards will rush to investigate, but won't bat an eyelid at Bond, no matter how odd your behaviour in front of them.
---
Moneypenny well spent?
With so little drama early on, only cut-scenes and driving sections break the tedium. But as 007 Blood Stone begins to find its feet, it begins to feel like a Bond movie. Increased urgency elevates gameplay and masks the technical flaws, and the game dazzles with its variety.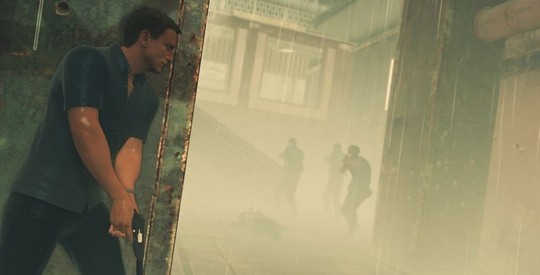 I spy danger
Few titles can match the breakneck speed of its six or so remaining hours. One minute you're fighting aboard a hovercraft bouncing through the icy waters of a Siberian river, and the next you're leading a prison break in dense Burmese jungles.
Driving sections become more frequent, and are increasingly imbued with the movies' pyrotechnic vernacular. Though their mayhem favours luck over skill - especially when chasing the mega dump truck around Bangkok's Sukhumvit district - Bizarre Creations' racing pedigree ensures top-notch handling and inspired track design.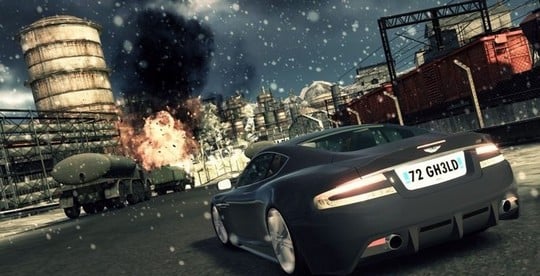 Licence to kill
And with stealth sections increasingly pared back in favour of shootouts, third-person sections are made more challenging by increased enemy counts, multiple entry points and improved verticality in level design. Those same tired mechanics might underpin it all, but when directed towards hundreds of enemies inhabiting some seriously beautiful and varied locales, from tight urban rooftops to a magnificent, spacious aquarium, the result is exhilarating.
Verdict
007 Blood Stone is the perfect Bond game. It's not the best, of course - that accolade remains firmly in Rare's hands. But labour through the game's disappointing opening few hours and you're treated to the definitive Bond experience: that guilty pleasure we all love on a lazy Sunday afternoon, where spectacle and action easily make up for any cerebral shortcomings. ®
More Games Reviews

Star Wars:
The Force Unleashed 2 [1]
Saw II:
Flesh and Blood [2]
Fable III [3]
Vanquish [4]