'Hippy' energy kingpin's electric Noddy-car in epic FAIL
Dale Vince bummed out in Clarkson bitchslap mishap
Comment An electric concept car commissioned by soi-disant "hippie" energy-trading biz lord Dale Vince specifically to "blow the socks off Jeremy Clarkson and smash the stereotype of electric cars" has unfortunately done neither, as on its first public outing the "Nemesis" abruptly ground to a halt in busy traffic and had to be pushed.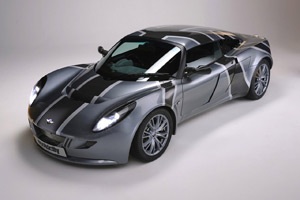 Powered by wind. Well, hot air
The embarrassing breakdown - which really seems to have reinforced the stereotype of electric cars rather than smashing it - was described as "a real bummer" by Vince, showing off the car to the Guardian this week ahead of its official unveiling last night. Sensibly, Vince had not invited a motoring journalist but rather Graun environment editor John Vidal - a bit of a hippie himself.
Even Vidal couldn't quite forgo a mention of the Nemesis' sudden halt during his trip, but the unfortunate hiccup was buried deep at the bottom of the piece below the headline "'Smashing the Noddy stereotype' – UK's first green supercar takes to the roads" and 11 paragraphs of praise and quotes from Vince.
Vince and Vidal describe the Nemesis as "powered only by renewables". Before the car broke down, Vince assured his Grauniad fellow-traveller that it would be good for "250,000 maintenance-free miles", and Vidal himself adds that it "knocks the technical socks off the much-hyped electric American wunder-car, the Tesla Roadster".
But Dale Vince has a bit of a reputation for putting the very best possible spin on things - to put it mildly. His energy-trading and windfarms firm Ecotricity has been slapped down by the Advertising Standards Authority in the past for misleading advertising.
It has previously made excellent-sounding claims such as "for every £1 you spend with us through your electricity bills we spend another £1 building new sources of green electricity... that's not a promise, it's a fact" and "One in six of all the wind projects in England today were planned and built by Ecotricity. Or looking at in another way, we produce more than 12 per cent of England's wind energy..."
Except it was only a fact if you spent less than £387 pa with Ecotricity over the last five years, and as England is not a significant place for wind the real picture at the time the latter claim was made was that Ecotricity produced less than two per cent of UK wind (well, UK wind energy, anyway).
Then, even assuming that Vince charges up the Nemesis using Ecotricity 'leccy, this absolutely does not mean that it is "powered only by renewables". The company admits that less than half its juice comes from renewable providers, and indeed the proportion of green to brown in the mix actually fell last year.
The Nemesis spec sheet claims zero CO2 emissions "when charged with green electricity from Ecotricity windmills" - a classic Dale Vince-ism, as this is a practical impossibility and as an Ecotricity customer you would be using mostly-brown energy.
In general, a driver would actually be responsible for less carbon emissions having bought one of various kinds of modern fuel-sipping combustion-engined cars as opposed to a battery one, as recent analysis by Swiss government labs has shown.
Still, the idea of electric cars is not that they're the greenest thing now, but rather that they might be in a future where electricity was green - though most proper analysis suggests that this cannot be done solely using renewables. What's definitely true is that people like Dale Vince who make their living by selling electricity love the idea of electric cars.
Sponsored: Minds Mastering Machines - Call for papers now open