Apple's Mac App Store opens doors to devs
Welcome to the dictatorship
Apple's soon-to-be-opened Mac App Store began accepting submissions from developers on Thursday, 16 days after Steve Jobs unveiled it at his "Back to the Mac" event in mid-October.
Although the OS star of that event was Mac OS X Lion, Jobs isn't holding up the Mac App Store until that cat pads into the market next summer. If all goes according to plan, the Store will launch in January — within 90 days after the announcement, as Jobs explained — but only for Mac users who are running the latest version of Mac OS X, Snow Leopard.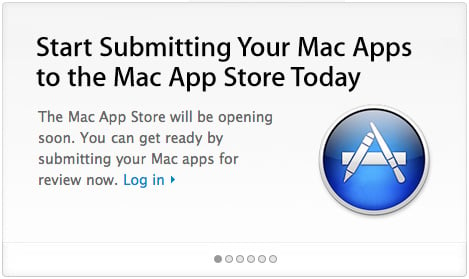 The beginning of the end? The end of the begining? The beginning of a new beginning? Whatever...
Developers whose apps Apple allows to stock the virtual shelves of the new sacred store will receive the same cut as do their iOS-developing brethren, whose quarter-million-plus apps now clog the iTunes App Store: 70 per cent of the take goes to the devs, 30 per cent goes to Jobs & Co.
There's a lot to be said for the convenience that the Mac App Store will bring to consumer-level software buyers: centralized shopping, easy upgrades, (hopefully) bug-tested apps, and digital delivery, among others.
Developers will also benefit — well, some of them, at least — by having Apple handle distribution, billing, money-handling, and check-cutting.
But as we have pointed out before, there's a potential dark side to the Mac App Store, as well — namely that it will be up to Apple and its arguably quirky discretion to determine which apps are allowed into the store, and which are shut out.
The first year or so of the iTunes App Store was chock-a-block with head-scratching capriciousness among Apple's App Store police — although with the publication of its App Store Review Guidelines in September, a degree of rationality seems to be seeping into the review process.
Unlike with the iOS-centric iTunes Apps Store, developers won't have to wait two years for a clearly worded document to tell them what's acceptable in the Mac OS X–centric Mac App Store. That document is already available.
The terms of that document, however, give Apple an enormous amount of leeway as to what apps it will accept into its store. As in most top-down dictatorships, Jobs' subjects are dependent upon his whim and will as to what will be offered in the store.
It remains to be seen whether the Mac App Store police will act as benevolent Platonic dictators, or if an iron fist emerges from the velvet glove.
No matter which, one thing is for certain: at the consumer level, the Mac App Store will be a massive change for both Mac OS X users and the developers who count on them for their livelihoods. ®
Sponsored: Minds Mastering Machines - Call for papers now open