EPOXI set to give comet some stick
NASA spacecraft gaining on Hartley 2
NASA's EPOXI spacecraft is gaining fast on comet Hartley 2, ahead of a scheduled close approach tomorrow at around 14:00 GMT.
At the appointed hour, EPOXI will pass within 700 kilometers (435 miles) of the comet's nucleus, while its two imagers and single infrared instrument capture intimate data.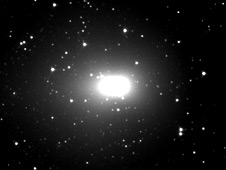 EPOXI is currently closing on Hartley 2 (see pic*) at a rate of 12.3 kilometers (7.6 miles) per second. NASA enthusiastically explains: "When the EPOXI mission spacecraft is 18 hours and 798 thousand kilometers (496 thousand miles) away, it will lock its instruments on the comet and begin its encounter phase data collection.
"As the distances between man-made machine and mysterious space dirtball closes, the frequency of image-taking will increase, reaching a crescendo in the minutes surrounding approach. All data collected during encounter phase will be loaded into spacecraft memory for later playback."
During the last 50 minutes before hurtling past the mysterious space dirtball, EPOXI will be flying itself on AutoNav Mode. This involves its Medium-Resolution Imager sniffing out "the brightest light source in the sky (excluding the sun)", which it then takes to be the comet's nucleus and the AutoNav "adjusts the spacecraft's attitude accordingly to keep its imagers centered".
Tim Larson, EPOXI project manager at NASA's Jet Propulsion Laboratory, elaborated in a glorious mishmash of metric and imperial units: "We're using AutoNav Mode because our mission control is 23 million miles away from the spacecraft at time of encounter. Any command we would send to the spacecraft would take 75 seconds to get there. Not the kind of thing you want to do when you're talking about hurtling past a 2.2 kilometer-wide object [1.36 miles] at 27,500 miles per hour [about 44,256 kilometers per hour]."
NASA has more on the nail-biting comet pursuit here, and a Hartley 2 mission summary here (pdf). ®
Bootnote
* NASA explains EPOXI "took this image of comet Hartley 2 on 2 November, 2010 from a distance of 2.3 million kilometers (1.4 million miles)".
It elaborates: "The white blob and the halo around it are the comet's outer cloud of gas and dust, called a coma. At this distance, the spacecraft is capturing images with a resolution of about 23 kilometers/pixel (14 miles/pixel)".
Sponsored: Minds Mastering Machines - Call for papers now open