Acer outs mega-format media box
LAN and local content played on your TV
Acer will release its HD-capable DLNA media streaming box later this month.
Dubbed the Aspire RevoView, the gadget can grab content from DLNA servers on your home network - you'll need a wired connection to the LAN - and present it on your TV - for which it has HDMI, component and composite video ports.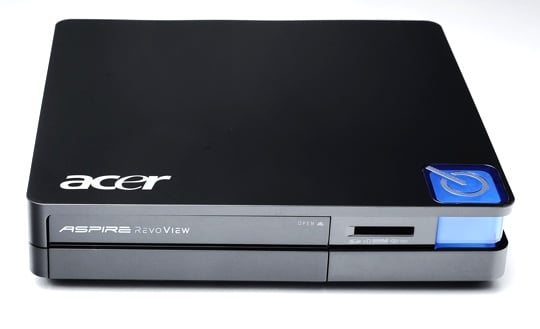 The RevoView also packs a pair of USB ports and a memory card reader, so you can feed it content from local storage too. And it has space for its own 3.5in, hot-swappable hard drive.
The gadget supports stacks of formats: AVI, MKV, TS, TP, TRP, M2TS, MPG, MP4, MOV, M4V, VOB, ISO, IFO, DAT, WMV, ASF, RM, RMVB plus the MPEG 1, 2, 4 SP/ASP/AVC (H.264), XviD, WMV9 (VC-1) and RealVideo 8, 9 and 10 codecs.
It does Cook, RA Lossless Flac and Ogg, and all the usual audio codecs.
The Aspire RevoView will be available from 8 November priced at £120. ®
COMMENTS
"Most reg readers"
sadly does not include the demographic known as "My mum". A console will not be happening.
360 / PS3 can do most of this?!
Most readers of El Reg will already have a 360 or a PS3 which can do most of this media streaming malarky anyway. Besides, if I was going to have another device under my TV I'd rather spend anoher £80 and get a Revo 3610 to have full PC functionallity with my TV.
I don't think you understand
I want one for my mum. She likes discs and doesn't much care for burning them or ripping them.
Works for me!
Who needs a DVDR? All my storage is on the network....and if for some weird reason I felt the need to actually burn off a useless disc to get scratched etc, I would just do it from my computer, or the server, or my laptop, or anything else that has a dvd drive in it!
Seriously, why do people assume a small device like this that is directed towards playing NETWORKED media should have a dvd drive? Me thinks you miss the point!
Gravestone, because that's where dvd discs belong.
Oh god, another one
Can ANYONE recommend one of these things which happens to include a DVDR?
Anyone?