Star Wars: The Force Unleashed II
Bantha poodoo?
Wielding a nuke in a knife fight
A diminishing gauge should curtail the use of Force Powers. But their almost ever-present availability is guaranteed by its quick refill and expansive areas that provide frequent respite from combat. Worse still, the inclusion of Force Fury - temporary invulnerability and limitless Force Power - further simplifies, and is best ignored in order to retain a modicum of challenge.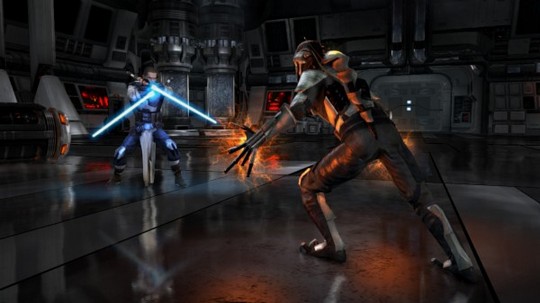 Caught red handed
In fact, to ensure any real challenge, it's best to ignore Force Unleashed II's levelling system as well. Your character, Starkiller, retains most of his powers from the original, and upgrading his abilities reduces difficulty to the point where it feels like you're wielding a nuke in a knife fight.
Force Unleashed II rarely bothers to break up the monotony of combat during its six-hour-long campaign. Short, perfunctory platforming sections do little to liven things up, as does remedial puzzling, which, although disguised somewhat by Force Powers, never deviates from simple 'find switch, open door' mechanics.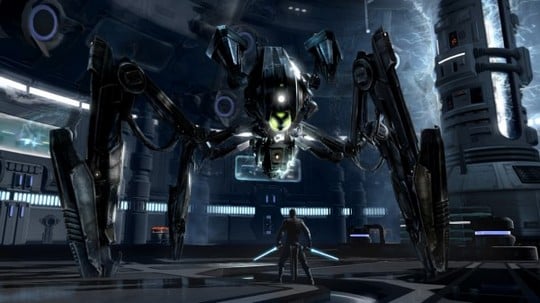 This hardware is buggy
The only real compulsion to plod through Force Unleashed II's drudgery comes through its often impressive graphics and mildly entertaining storyline. But, no matter how beautiful the grand tour of Star Wars sets - which bridge the Flash Gordon grandeur of episodes I to III and the darker palette of episodes IV to VI - and no matter how much you want to conclude Starkiller's story, both the levels and narrative are too sparsely populated. Force Unleashed II always feels like a galactic show home, one beautifully presented and perfectly pristine, but ultimately sterile and lifeless.
Verdict
Like so many other Star Wars games before it, Force Unleashed II can only be recommended as a weekend rental for the most avid of fans. The improvements to graphics and controls give it the edge over the original, and the story just about retains interest. But for anyone else, Force Unleashed II's tired and simple gameplay is best avoided altogether. ®
More Games Reviews

Saw II:
Flesh and Blood
Fable III
Vanquish
Fallout:
New Vegas
Sponsored: Minds Mastering Machines - Call for papers now open

Star Wars: The Force Unleashed II
A predicable and uninspired sequel to a predictable and uninspired game. Available on Xbox 360 (tested), PS3, Wii and PC.
Price:
£40 (Xbox 360 and PS3), £30 (Wii and PC) RRP