Ace at bass
There are few other features either, such as an equaliser or radio and alarm functions. The iPad also has to be docked in its upright position, which means that you can't flip it into landscape mode to play videos.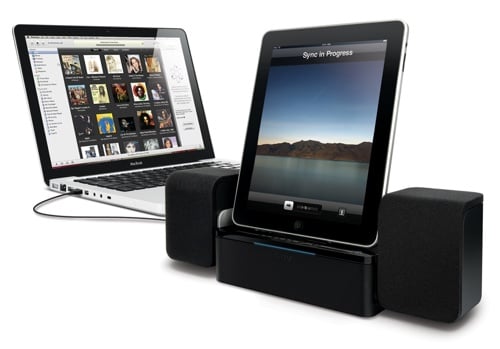 That syncing feeling
One useful feature, though, is the inclusion of a USB port which will allow you to sync the iPad with your computer. I did find this rather handy, as I tend to swop music and video around quite a bit on my 16GB iPad. However, it's irritating that the iPad switches to its own internal speaker while syncing.
The iMM747's saving grace is its audio quality, which is better than I'd expected given the modest size of the speakers. The bass, in particular, is quite emphatic, and the speakers kick out a pretty decent volume too. The higher frequencies do get a bit frayed as you approach maximum volume but if you're just using the iMM747 as a desktop or bedroom speaker then you probably won't need to have it at full blast very often.
Verdict
To be honest, the iMM747 is a respectable but fairly modest pair of speakers, distinguished primarily by the fact that it doesn't have any real competition at the moment. The omission of a remote control is something of an own-goal too. If you just want a simple set of speakers for your desk or bedside table then the iMM747 will do the trick, but it's a shame that iLuv didn't take the opportunity to try and come up with something a bit more ambitious. ®
More iPad Reviews

Ten Essential...
iPad accessories
Ten Essential...
iPad Games
Apple iPad
3G 32GB
Apple Camera
Connection Kit

iLuv iMM747 iPad speaker dock
The first speaker set designed to dock with the iPad.
COMMENTS
Landscape
Don't get it...
If I wanted amplified output, and a nice dock - then why not have a way of docking Landscape so I can put a film on it, then dock it. Don't see the point of a Portrait dock.
Peter
Better iPad dock
I use a Yamaha PDX-50 wireless "dock" with my ipad, and it makes an excellent flexible system. It won the award for best iPod dock system in "What HiFi'" a couple of years ago and is available for about £100 now.
It uses a small transmitter that plugs into the dock connector. The iPad can then be used in landscape or portrait mode and the speaker box can be placed where you choose without taking up space next to the iPad.
It works superbly for me...
Already possible
I use my iPad now on my B&W Zeppelin system. Works fine and looks good too. The Zepplin's clever future proofed doc allows for any size of device that can balance.