iLuv iMM747 iPad speaker dock
Desktop audio
Review There are more speaker systems available for the iPod and iPhone than I can count, but the iPad has missed out on all the fun so far because, of course, it's far too big to fit into a docking system designed for its smaller brethren.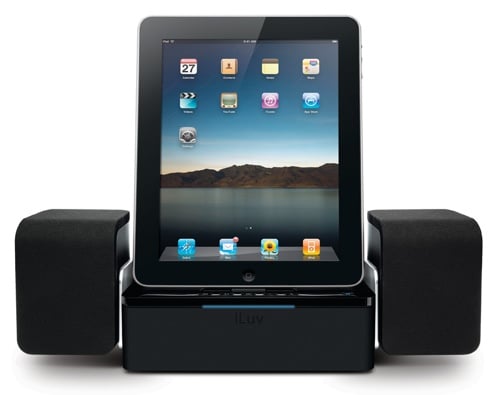 iLuv's iMM747: jumbo dock?
I've heard rumours of a couple of iPad speaker systems that are due around Christmas, but iLuv has got there first with its iMM747. Priced at around £100, the iMM747 will be available in November, primarily from HMV, suggesting that iLuv is hoping to pick up some impulse buyers during the Christmas shopping frenzy.
The iMM747 is just over a foot wide, although most of that space is taken up by the large central docking unit, leaving two relatively small satellite speakers bolted onto the sides of the unit. The plastic casing feels a bit lightweight, but the speakers aren't meant to be portable so they don't need to be particularly rugged.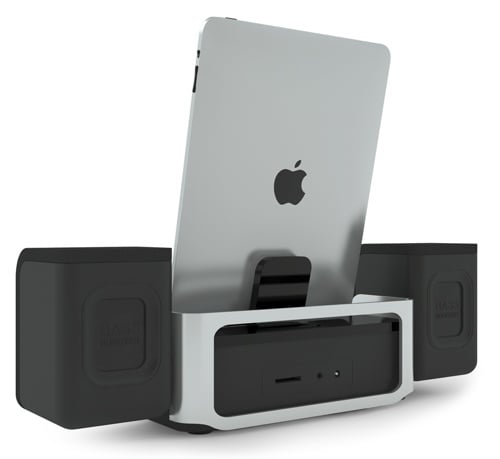 Dock head
It's also a little light on features. iLuv refers to the iMM747 as a "desktop or bedside speaker dock". The reason for this is that there's no remote control included with it, which means that you have to place it close at hand. You couldn't really listen to your music while slouched on the sofa in the front room as you'd have to get up and walk over to the unit every time you wanted to adjust the volume or skip to the next track.
COMMENTS
Landscape
Don't get it...
If I wanted amplified output, and a nice dock - then why not have a way of docking Landscape so I can put a film on it, then dock it. Don't see the point of a Portrait dock.
Peter
Better iPad dock
I use a Yamaha PDX-50 wireless "dock" with my ipad, and it makes an excellent flexible system. It won the award for best iPod dock system in "What HiFi'" a couple of years ago and is available for about £100 now.
It uses a small transmitter that plugs into the dock connector. The iPad can then be used in landscape or portrait mode and the speaker box can be placed where you choose without taking up space next to the iPad.
It works superbly for me...
Already possible
I use my iPad now on my B&W Zeppelin system. Works fine and looks good too. The Zepplin's clever future proofed doc allows for any size of device that can balance.