Child porn victims seek multimillion-dollar payouts
One victim. One photo. $3.68 million
Email delivery: Hate phishing emails? You'll love DMARC
Continuing trauma
Part of that damage, Marsh and his client argue, results from the continuing trauma of knowing that her images remain widely available.
"Every day of my life I live in constant fear that someone will see my pictures and recognize me and that I will be humiliated all over again," she wrote in a victim-impact statement (PDF) that has accompanied each restitution claim. "It hurts me to know someone is looking at them – at me – when I was just a little girl being abused for the camera. I did not choose to be there, but now I am there forever in pictures that people are using to do sick things."
The claims demand that each person convicted of possessing even one of the images pay her damages until the threshold $3.37m is reached under a legal doctrine known as joint and several liability. Under the theory, Amy will stop collecting once the figure is reached. Any defendant who was forced to pay more than another is free to sue the other for compensation.
"Each and every redistribution of the images causes a distinct injury to the victim," Marsh told The Register. "It's a very deliberate act that they choose when they go seek images of my client out."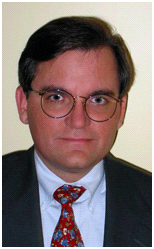 James R. Marsh has filed
about 600 identical claims
on behalf of "Amy"
Critics of the tactic – which include a fair number of judges – don't see it that way. With such images only a few clicks away, and given the ability to make an unlimited number of copies of the original, those who possess the contraband are often far removed from the people who produced it or physically abused the child. And yet the restitution claims make no distinction between the harm done by a person who downloaded a single image and the person who inflicted the abuse in the first place and captured it on film for all to see.
"The losses described in Amy's reports are generalized and caused by her initial abuse as well as the general existence and dissemination of her pornographic images," US District Judge Leonard Davis, wrote in December when rejecting her claim against Paroline, the defendant in the Texas case. "No effort has been made to show the portion of these losses specifically caused by Paroline's possession of Amy's two images."
The judge went on to express symathy after concluding that Amy will continue to suffer harm from the pictures for the rest of her life.
"However, the court's sympathy does not dispense with the requirement that the government satisfy its burden of proving the amount of Amy's losses proximately caused by Paroline's possession of her two images," he continued. "Although this may seem like an impossible burden for the government, the court is nevertheless bound by the requirements of the statute."