Asda prices up Elonex 7in Android tablet
Yours for £97
If you fancy a cheap - 2GB of storage, resistive touchscreen, poor battery life - Chinese Android-based 7in tablet, Asda has begun selling the Elonex e-Touch.
Yours for 97 quid - plus a fiver more if you want it delivered - the gadget has a Micro SD card slot for more storage and 802.11b/g Wi-Fi for network connectivity. It runs Android 1.6.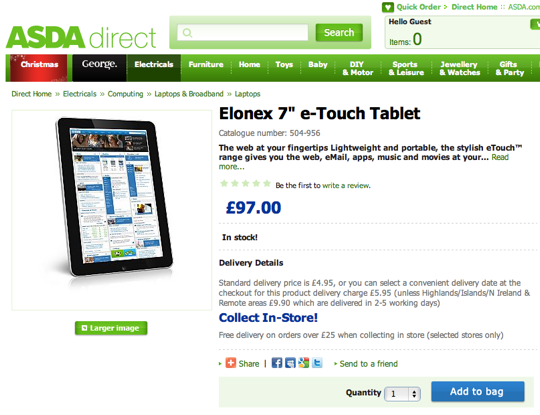 The device weighs just 350g and measures 203 x 137 x 15mm.
It's essentially the same machine as all the other cheap-as-chips Android tablets popping up.
The huge marketing momentum behind the iPad will, of course, persuade many of Joe Public's less technologically savvy siblings that tablets are the Christmas gift of 2010, so Asda will probably flog a ton of these in the run-up to the festive season, especially at such a relatively low price. ®
COMMENTS
Has El Reg reviewed any of those super-cheap pads?
Interested to see at least one properly reviewed...
So...
Is the source code available on isle 3?
Or are they (like so many others), just churned-out with no regard for the Android license.
If you want a cheapo tablet...
...get an Archos.
FFS the screen!
FFS, the thing has a resistive screen (i.e., not the capacitive one that iphone/ipad etc have!)
Why do these companies insist on using resistive screens? They may be cheaper, but they are such a pain to use, and now that capacitive screens exist, ANY resistive screen will suffer in the comparison! (I'd like a cheap Android tablet to program on, but not with a goddamn resistive screen...)
Does it come in Beige ??
Honestly , Beige is the new black.