The terabyte iPad is coming
Sexy slab doesn't need disk backup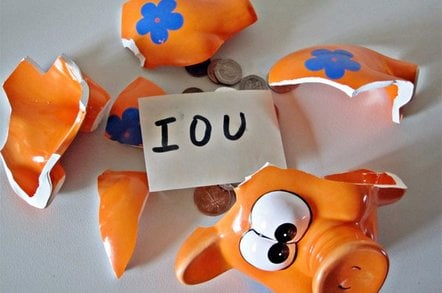 Blog It's coming isn't it; the terabyte tablet, and it's easy to see how. Let's double the flash memory in Apple's sexy slab each year and we get a terabyte iPad in 2015. It will probably arrive sooner.
Won't it be great to have flash speed access to all your photos, your music, your videos, your calendar, your films, your digital stuff, and not need to back it up at all? Disks break; flash doesn't. It doesn't need backing up.
Is this really true? Let's assume it is; go with it, and see where it leads us. One place is the realisation that the flash-based MacBook Air does not need Apple's Time Machine backup. In fact it would be an excellent backup target in its own right if it only it had more capacity.
Individual disk drives, the 3.5-inch ones, could be holding 7 to 10TB of data in five year's time. Having one of these things as the repository of last resort for you and your family's digital data  could seem as risky as hell; far less reliable than keeping the same data in seven to ten iPads. So the disks will have to RAIDed or exist in some Drobo-like scheme beyond RAID.
How much better it would be if you compress or deduplicate the JPEGs, the MPEGs and the other files and store them in a flash box instead. Step forward Dell and Ocarina; imagine Ocarina deduplication technology applied to Dell flash tablets for the home; slabs of solid state storage full of compressed pictures, videos and music. Such a scenario would make any respectable disk drive manufacturer gulp and devote lots of dollars to getting into the flash business. Oh, they are already doing that.
Try this thought; there is a huge latent demand for reliable digital storage and a huge latent resentment against disk drives. We don't actually want spindles and platters; we want reliable, unbreakable access to our music, pictures, music, letters, home accounts, emails, and we want it in our pockets, not off in the cloud - because networks break like disks do.
The cloud is the place to backup our personal and home flash stores, not the place to store and stream pictures, music and videos to our consumption devices, like iPods, iPhones and iPads and MacBook Airs. Streaming data is only wanted anyway by digital rights holders who want us to pay to view or listen. No, the cloud is for backing up domestic data, or sharing it; a secondary store.
Getting back to disks, what we are realising is that these are incredibly sophisticated electro-mechanical marvels and we have loved them to bits because they have done a job no other technology has been able to come close to, but ... but ... that's becoming no longer true. They break and we lose the data bits we love even more.
The pictures, music and videos in my 64GB iPad are faster to access than the copies in my MacBook, iMac, PC or external hard drive, MySlowBook or FreeAgent SlowFlex, and they are safer in the iPad's secure NAND chips than on the will-they-be-spinning-tomorrow platters in the desktop and laptop devices that I've kept them in up to now.
Thinking about the implications of a terabyte iPad like this could bring us to this realisation; disks are approaching end of life for mobile computing devices. Ladies and gentlemen, fellow geeks, nerds and storage techies, it's no use sticking your finger in the disk dike, a flash flood is coming.
An extreme view is that in five years time hard disk drives in the home will be dead.
Maybe the tantalising prospect of a terabyte tablet has addled my brain. Tell me if you think  I'm talking tosh and say why that's the case; I wanna know.
(Written following the crash of an external disk drive used for Time Machine backup of a Macbook. I would so like to be able to say: "Never again backup to disk if I can help it!") ®
Sponsored: Minds Mastering Machines - Call for papers now open