Freecom Mobile Drive CLS storage
Portable drive array with archiving ambitions
Review The turn of the century spelled the death of VHS and cassette tapes, along with the plastic cases they came in. Fast-forward to 2010, and you can once again store your data in a translucent case with a paper label adorned with an indecipherable scrawl.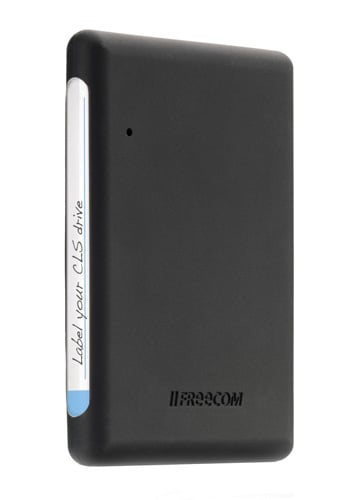 The new tape? Freecom's Mobile Drive CLS
Indeed, the appearance of the Freecom CLS drive suggests some folk at Freecom have a fondness for such things. Essentially, the Mobile Drive CLS is a 2.5in disk enclosed in a black rubberised enclosure, complimented with a miniUSB port and a paper label concealed behind a Perspex window. Each CLS drive also includes a VHS-like (albeit smaller) plastic case with yet another paper label and compartments for both the drive and the included 8cm USB cable.
In stark contrast to most other portable hard disks, Freecom has not enclosed the CLS range of drives in hard shells or solid cases, instead opting for solely the protection offered by the moulded rubber cover. This results in softer corners, which will provide a decent amount of protection against fall damage.
Available in 250GB, 320GB, 500GB and 640GB capacities, Freecom intends the Mobile Drive CLS to be Collected, Labelled and Stored. Yet there's more to this CLS idea than just the drives, as there's a CLS Dock too. This hub offers a neat and organised way to attach up to three Mobile Drive CLS disks and one other USB 2.0 device to your PC.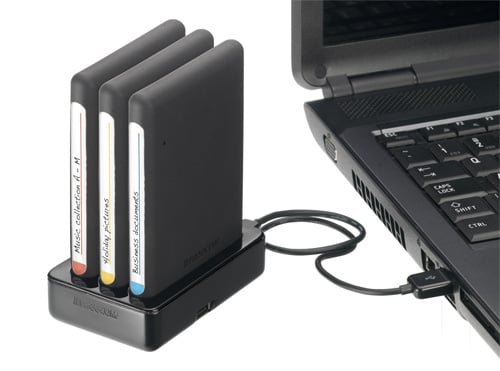 The dock mounts multiple drives using just a mini USB connector in each bay
The concept seems targeted at those who archive large amounts of data with no need for instant access or those who miss the 20th century. We await the Freecom, the Hard Disk Rewinder in due course. Back in the here and now though, Freecom also offers a data recovery option for £25. It's effectively 3 year insurance should your drive go belly up in that time. As for the drives, benchmarks with Crystal DiskMark 3.0 on the 250GB model produced the sort of results expected for a USB 2.0 drive, no real surprises here.
COMMENTS
Data recovery option?!
Having had a good laugh... (Or in other words having sworn a lot) at Seagate's piss-poor service of
"If your drive breaks we'll send you one we've fixed, if you want your data recovered it'll be 600 quid, and if you use any other recovery vendor we won't even give you a second hand drive." This £25 quid option sounds like it has been extended from god himself as an olive branch to remind me what wonders await repentant sinners in heaven.
25 quid for a three year waranty on drives I'll use for intermediate term archiving is a damn good deal! Admittedly I'd need more that 1 in 8 to fail before it was better value than disklabs, but still, nice that they've seen a customer wish and are filling it!
See first post, my post.
"However, I can heartily recommend the Mobile Drive XXS with their rubber cases, quite tough little things and has survived a few waist height falls to the floor."
Not an official test by any means but I'd sooner it be in that rubber case, which if nothing else helps to spread and dampen the impact with the floor, than without.
Protective rubber bits - and I'm not talking condoms...
This idea about providing a moderate level of protection because the corners are rounded off and enclosed in rubber, it's nonsense.
Why is it nonsense? If you're not sure whether the device will survive the fall to the ground, then the fact it has bits of added rubber are irrelevant, you have to treat the device as if it would become damaged, you have to treat it with great care. Which means you're going to have to treat the device as if it had NO protection at all, which then defeats the object of having the bits of rubber and the extra price that goes with that.
Either it's been subjected to drop testing and passed or it hasn't. If it hasn't been subject to drop testing at all then you might as well forget it has the extra protective bits added.
Hang on, this is brilliant
We are always being told to backup, backup, backup. And the safest backup is to a disk that is not connected to a computer (an preferably on-site). So at the moment I have a lot of old 3.5 in hard drives in a cupboard gathering dust. So they're basically charging an extra £10 for a dust jacket and labelling system. Fair enough. I'll take 2, please.
I quite like this idea...
but I would want 2Tb+ 3.5 inch drives with a powered dock. This combined with a non-networked media player would be just up my street.
Would be ideal for long term storage of series etc - disc not spinning = longer data storage
Even better would be for them to sell hard case + skin and let you add your own drives