Google's 'copied Java code' disowned by Apache
Dis-Harmony from Oracle's Android suit
Code unload
In August, Oracle sued Google over Android, claiming the mobile OS infringes on seven Java-related patents as well as various copyrights. With its initial suit, Oracle backed its infringement claims with few details. It merely alleged that Google was infringing with Android's Dalvik virtual machine and the Android software development kit, and perhaps additional portions of the OS.
According to Breton Bocchieri, a patent lawyer with the international law firm Seyfarth Shaw, Oracle' s approach was hardly surprising — at least where the patent infringement claims were concerned. "If you have a direct infringement count, you don't have to specify exactly why the claims are made," he says. "This is not unusual."
Google eventually answered the suit, insisting that the mobile OS does not violate Oracle's patents. And it filed a motion to dismiss the copyright infringement claim, saying that the database outfit hadn't provided the necessary specifics about what code was infringing which Oracle copyrights and how. So, with Wednesday's filing, Oracle provided additional details.
"The infringed elements of Oracle America's copyrighted work include Java method and class names, definitions, organization, and parameters; the structure, organization and content of Java class libraries; and the content and organization of Java's documentation," the filing reads. "In at least several instances, Android computer program code also was directly copied from copyrighted Oracle America code."
The filing includes six pages of comparisons beween Google code and Oracle code, including this snapshot: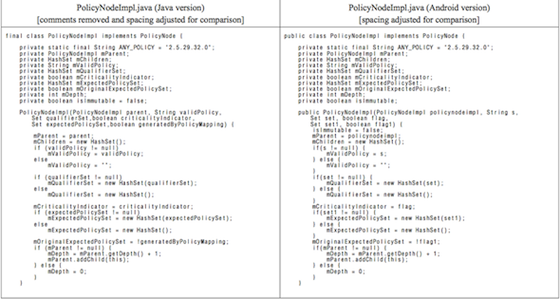 Oracle accuses Google of code lifting (click to enlarge)
Google did not immediately respond to a request for comment on Oracle's latest filing. But judging from its previous court filings, the company will likely claim that Oracle is leaning on copyrights for open source code.
In its motion to dismiss Oracle's copyright claim, Google pointed out that Oracle's original suit named only two specific copyright registrations: one for "Java 2 Standard Edition 1.4" and "Java Standard Edition, Version 5.0." It also pointed out that both of these have been open sourced. "These registrations appear to relate to versions of certain Sun Java materials that were released as open-sourced software in 2006 and 2007," Google's motion to dismiss reads.
But as Groklaw points out, there's a rub. Or two.
Sun/Oracle licensing includes "field of use" (FOU) restrictions that — among other things — prevented the Java TCKs from running on mobile devices, ensuring that Harmony can only be used on desktops. Oracle could end up arguing that Google has violated the FOU restrictions. Android, after all, is a mobile OS.
What's more, Oracle has accused Google of violating copyrights on Java documentation, and it's clear that the documentation cannot be redistributed.
Sponsored: Minds Mastering Machines - Call for papers now open