ITU congress: where Kabbadi meets telecoms
Very silly. Oddly fascinating
Divine intervention
There have been light moments in the day-long slogs at the Plenipotentiary. We were treated to one yesterday when a representative from no less than the Vatican made an intervention in the middle of some contentious discussions about the internet.
We were just about to embark on a ludicrous discussion about whether to include a footnote to a document that named several internet organisations, including ICANN, RIRs, IETF, ISOC, and W3C.
For reasons that are as petty as they sound, the Old Men do not want to recognise the existence of ICANN — with whom the ITU has had a long but increasingly pointless rivalry.
Although they will occasionally bark out furious declarations. "Do not surrender to the ICANN!" yelled Syrian representative Nabil Kisrawi at one session, leading to bemused looks from the rest of the room. Later on, he exclaimed: "There is even a representative of the ICANN in this room!", as if it were the greatest provocation known to man. Sadly he was wrong, there wasn't.
So it was with calculated bonhomie that the representative from the Vatican asked for the floor and proceeded to congratulate Iran for the recent approval of the country's top-level domain ".iran" in Persian.
The new, multilingual domain was a great example of the successful relationship that the Iranian government, among other governments, had forged with ICANN, the Vatican continued, and a demonstration of the best way forward, with different organisations working together in the benefit of all.
The intervention may have come from one of God's representatives rather than from the Big Man himself, but it was nevertheless divine.
Open or closed?
The most frequent and significant criticism of the ITU is that it's a closed shop. Only governments can get in. Others get limited access but only for a big fee. You can't even read its documents. It's considered to be a shadowy organisation that thinks it should run the world while making deals in smoke-filled rooms.
The reality is quite different. Parts of the ITU are indeed closed. I registered for the conference as a member of the press and entry was free — but that did not give me access to the conference documents.
Everything at the Plenipot revolves around the documents. Without them, you have no idea what anyone is talking about — and even with them, it's a struggle.
There are at least five different categories of documents, all numbered but with different prefixes: C, DL, TD (also DT), INF, ADM. Some documents are simply lists of other documents, created in an effort to keep people following events.
The documents sometimes contain a resolution; sometimes several resolutions; sometimes a new resolution; sometimes a revised resolution. Sometimes there can be a 45-minute discussion of several documents, ending with a resolution passed, and not a single mention of what we are actually talking about.
Without the documents, you might as well as be sitting at the back of a bingo hall. Without a card.
It is also the case that unless you are an official government representative or a representative of a "sector member" — which costs anywhere from $10,000 to $100,000 — you cannot get into the conference centre.
So, yes, this is a closed meeting.
Cuckoo
Did I mention that there are banks of several thousand pigeonholes — one for every delegate — along the side of the main room? I have box 1324.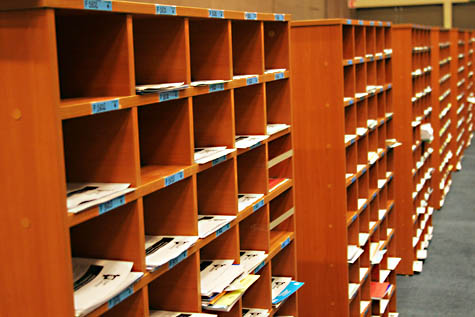 Remember your kindergarten's cubbyholes? So do the ITU's meeting planners
I wandered around and located my box, hoping to find reams of faxed documents. With some disappointment I found it was empty. The Iranians must have got there first.
Culture club
But much more importantly, the culture of the ITU is surprisingly open. Once you are in the door, the atmosphere is very relaxed, even collegial. The elected officials are happy to talk to you, and are friendly and open. Their interactions with the room are honest to a degree that I have rarely seen in either the public or private sector.
The official rules are such that many of the meetings could be closed to me — and to sector members — but these rules are ignored. The only security is at the main entrance; from there you can wander about as you wish.
What is even more stark is that as you walk in, all the staff's offices are lined up on the right-hand side, opposite the main hall, with name plaques above the door. The doors are always open as a default. I have stuck my head in one or two and each time have been greeted with a helpful query as to how the occupant could help me.
I promised myself I would keep comparisons between the ITU and ICANN to a minimum, but in this case, you can't help but be struck by the disparity. At ICANN meetings, the staff is purposefully hidden away in a corner of the venue, all in one room. You are not allowed near that room, and if you put your head in — even as an ex-staffer — you are met with a challenge to explain yourself. Open and engaging it is not.
But what you can't do here — and what the ITU really needs to look at — is provide input to a meeting, even in the smaller discussion groups.
It is peculiar that sector members — signed up, paid up, and a part of the organisation — are not allowed to talk, even when the subject is their specialist area. Only member states can interject. This is stupid — and everyone knows it. In fact, the restriction is widely skirted by governments who just name non-government employees as delegates so they can speak, but this is a fudge that can only be temporary.
If the ITU is serious about opening up to more sector members — i.e., non governments — it has to allow them speaking rights. It already does that in its other meetings; the Plenipotentiary needs to lose its special status if the ITU's promises to open up are to be taken seriously. ®
This article originally appeared in slightly different form on kierenmccarthy.com.
Sponsored: Minds Mastering Machines - Call for papers now open