Fable III
Myths the point?
Gloomy Finale
For all Fable III's simplification, the Sanctuary is ironically the most unnecessary and unwieldy introduction in videogame history. Regular RPG menus and inventories are replaced with a series of walk-in rooms, where you can change clothes, upgrade weapons, check achievements and access multiplayer features. Intended as a less daunting system, the Sanctuary remains cumbersome and time consuming long after a traditional menu system would have been mastered.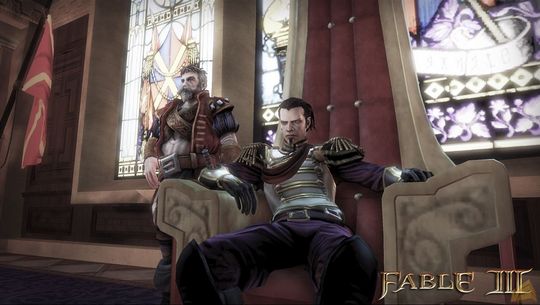 Throne in for good measure
With so many other divisive alterations, Fable III's game-changing two-hour denouement arrives with little surprise. In asking what happens after the hero has deposed the despot and acceded to the throne, Lionhead Studios attempts to reveal the sobering weight of responsibility that comes with authority. A mature theme poses complex political questions – ones especially pertinent to our present times of economic austerity. Yet, like so much of Fable III, its execution is overly simplistic. Alas, the gameplay devolves into repetitive, facile choices between the short-term needs of the few, and the long-term good of the many.
Despite the unexpectedly gloomy finale, Fable III sustains the entertaining characteristics of its predecessors throughout. The ensemble of British acting luminaries imbue the narrative with a vitality and gravitas that elevates a disjointed and often puerile script, even managing to enliven its dated, stereotypical Python-esque comedy with their dead-pan delivery.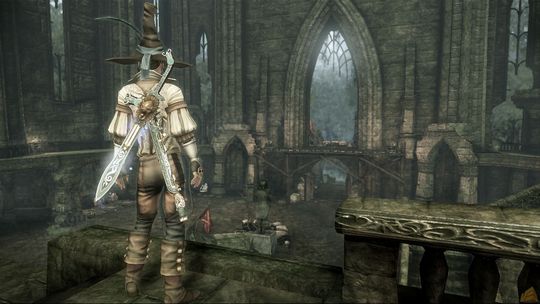 Need to alter a few things
Verdict
In trying to make itself as accessible as possible, Fable III is a gamble that doesn't pay off. Stripped of the compulsive mechanics of collecting and levelling that define the RPG experience, Fable III is left to rely on adventuring alone. While there's no denying that adventure occasionally entertains – helped immeasurably by some excellent voice acting – a lack of variety and shallow gameplay ultimately spoil the fun. ®
More Games Reviews

Vanquish
Fallout:
New Vegas
Medal of Honour
Fifa 11 vs
PES 2011
Sponsored: Minds Mastering Machines - Call for papers now open

Fable III
An RPG adventure game that's light on RPG and light on adventure. Available on Xbox 360 (tested) and PC