Fable III
Myths the point?
Guild your combats
It's a novel system offering a simpler levelling approach. But in unifying attribute points under one currency, and by supplying a superabundance of that currency through acts as simple as running errands or amusing citizens, Fable III quickly devalues character progression through a surfeit of choice.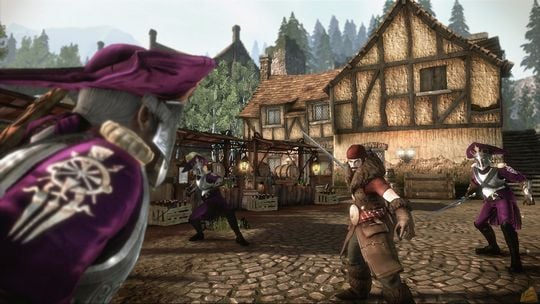 Learn the surroundings
This wouldn't be such a problem but for the ease of combat. Retaining the series' one-button principles, mêlée, ranged weapons and magic are always at your disposal, their efficacy equivalent regardless of enemy or situation. And infinite stamina, ammo and mana further reduces combat to button-bashing attrition, in which the only real skill involves not falling asleep at the pad.
Health also needs little consideration. Dispensing with a meter, Fable III adopts the warning system of numerous FPSs, where respite is required after suffering too many hits. But unlike those FPSs, food and potions instantly restore. Even when felled, the penalty is insignificant. Knocked out for a second or two, you are restored in situ, with full health, and with only your progress towards the next Guild Seal affected.
It's not just combat, levelling and inventories that are scaled back in Fable III. Despite being in the middle of an industrial revolution, Albion itself feels simplified, with much less emphasis placed on ancillary gameplay of relationships, commerce and general exploration.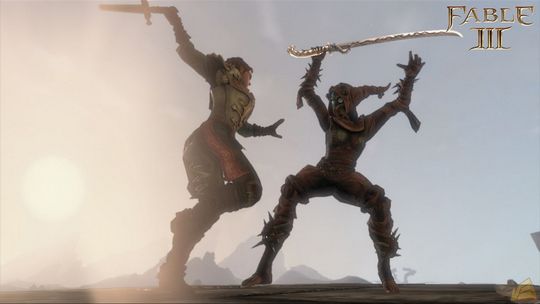 Never give a sword to a man who can't dance
The expression system is also simplified, replacing Fable II's radial menu with contextual prompts, and limiting interaction to one person at a time. Whistling, dancing and farting your way to approbation now feels tired, the extraction of Guild Seals consequently prescribed and laboriously mercantile.