Online badness: The kids are not alright
Parents are ignorants
One in eight kids are upset about content they've seen online - such as porn, sexual or bullying messages or harmful user-generated content. Less than half of parents are aware of their concern.
These finding are contained in the report Risks and safety on the internet: the perspective of European children, based on interviews with 23,000 young people aged 9-16 years-old in 25 European countries.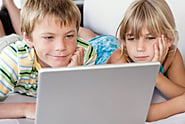 Report findings suggest kids are upset more easily (more at "risk") in the Czech Republic, Estonia, Lithuania and Sweden, while Italian, Portuguese and Turkish children were least affected.
Interviewers discovered that youngest children found it most difficult to cope.
Sonia Livingstone,LSE professor and report co-author, said:
This study shows children are going online younger and more often than ever before. The internet is now central to children's lives across Europe and they use it for a range of things which are often beneficial including schoolwork, playing games, watching video and instant messaging. So while it is worrying that some children have been upset by things they've encountered online, it's important to balance this against the benefits and to understand that risk doesn't always lead to harm.
According to the study, half of the respondents find it easier to be themselves online than in meatspace. They are busy online with "beneficial activities" as games, watching video and instant messaging. But 12 per cent have seen user-generated content that promotes hate or anorexia and many 11-12 year olds do not know how to block contacts or manage privacy settings.
Forty-eight per cent have access in their own bedroom.The research also concluded that teenage boys are "more exposed" to sexual images than the rest, while girls receive more hurtful and seedy messages.
The study was conducted by the EU Kids Online project, based at the London School of Economics. ®
Sponsored: Minds Mastering Machines - Call for papers now open