Firefox engine speeds past Chrome after Jager shot
Mozilla claims (a) SunSpider crown
Mozilla has claimed the fastest SunSpider scores on the planet, after internal tests showed that its latest Firefox JavaScript engine — which includes the new JagerMonkey extension — outperforms both Google Chrome's V8 engine and Apple Safari's Nitro.
Director of community development Asa Dotzler made the claim on Monday morning with a blog post.
The planet Dotzler refers to does not seem to include Opera or Internet Explorer — Mozilla is running shell-only tests against only Chrome V8 and Safari Nitro — and the new Firefox engine still trails Chrome on Google's V8 benchmarks. But Mozilla has reached a milestone nonetheless. The open sourcers have long said that their new JavaScript engine would be as fast or faster than the competition.
Mozilla tracks its latest benchmark numbers for its revamped engine here: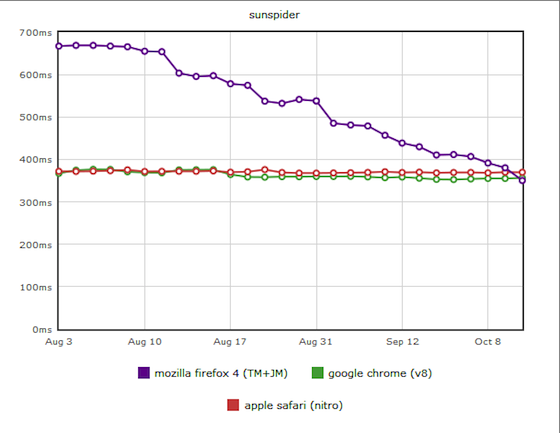 Set to debut with Firefox 4 this fall, JaegerMonkey is an extension of the company's existing SpiderMonkey JavaScript engine. It operates alongside Mozilla's TraceMonkey extension, which debuted with Firefox 3.5 in June of last year.
TraceMonkey attempts to speed performance by detecting code loops and converting them into assembly language. But there are cases where this sort of "tracing" just doesn't work, and when that happens, the current version of Firefox — 3.6 — reverts to an aging interpreter that runs JavaScript at speeds reminiscent of the days before Google Chrome made its debut.
With Firefox 4 — now in beta — TraceMonkey will still look to convert loops, but when it can't, JaegerMonkey will convert entire methods into assembly. This new method JIT compiler uses the Nitro assembler from Apple's open source WebKit project, the same assembler used by Google Chrome and Apple Safari. ®
Sponsored: RAID: End of an era?