Google streaming search in 'Instant revenue boost'
Dollars grow 2% in two weeks, says study
All about the Benjamins?
Speaking with The Reg, Shashi Seth, Yahoo!'s senior vice president of search and a former search product leader at Google, has argued that his former employer opted for the Instant method in an effort to generate more revenue. "Do I really need new search results for each character I key in?" he asked.
But Google is adamant that Instant is solely an effort to improve user experience. "Many of you guys speculated that we launched Instant to make more money. Well, let me tell you that's simply not the case," Google senior VP Jonathan Rosenberg told reporters and analysts during the company's latest earnings call. "We launched Instant because it's so much better for the user."
He went on to say that its impact on revenue has been "very minimal" and that "from a resource standpoint, it's actually pretty expensive" — meaning Google spends more serving up all those extra pages. It's likely true that there's an added cost, but it's unclear how high this actually is. Google has also said that it has introduced new technologies that reduce the strain the service might put on its back end. Servers now keep track of what data the browser already has and what data is already being gathered on some other server, the company says, and it has somehow improved its caching system.
Marin's Gagan Kanwar takes Google at face value. "A two per cent revenue increase isn't world-changing for a company that's growing revenues 20 per cent a year," he says. But that 2 per cent growth merely applies to the service's first two weeks in action. And Kanwar acknowledges that it could potentially increase revenues far more in the long run.
From Google's perspective, if you increase speed, you increase user happiness. "We believe from a user standpoint, Instant is outstanding and the data that we are seeing actually bears this out," Rosenberg continued. "We took something that no one thought was a problem and we created something that once you use it, you can't recall how you lived without it before. It saves about two to five seconds per search and users absolutely love it. The percentage of people who select Instant results before they finish their query is steadily rising. So in other words, that means the more they use it, the more they like it."
Except it doesn't mean that. The sad truth is that most people simply use what's put in front of them. And the worry has to be that — on some level — Google is narrowing what users end up searching for, pushing them towards the lowest common search denominator.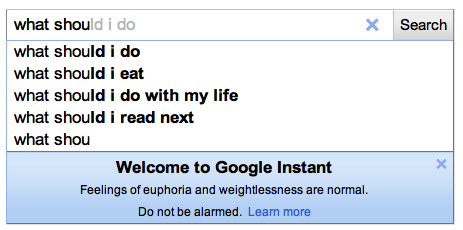 Rosenberg continued to protest. But he did finally acknowledge that Google cares about more than just the user. "So let me be clear that Instant wasn't based on a narrow financial calculation. We launched it because we could and because it's great for our users, as we have always said," he said. "Of course, I know it's an earnings call, so let me be clear on another point. We do in fact care about money." ®
Bootnote
You can find the Marin study here.
Sponsored: Minds Mastering Machines - Call for papers now open